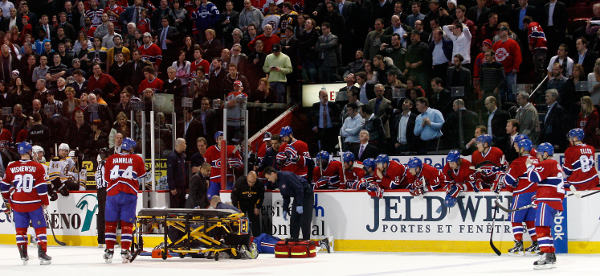 Boston
Bruins
defenseman
Zdeno Chara
escaped suspension for the check that left Montreal
Canadiens
forward
Max Pacioretty
with a severe concussion and a fractured neck vertebra, the NHL announced Wednesday afternoon.
"After a thorough review of the video I can find no basis to impose supplemental discipline," said Mike Murphy, the NHL's Senior V.P of hockey operations, in a statement. "This hit resulted from a play that evolved and then happened very quickly -- with both players skating in the same direction and with Chara attempting to angle his opponent into the boards."
Instead of the boards, Pacioretty found the divider between the benches late in the second period of Tuesday's game at Bell Center. Pacioretty's head hit the turnbuckle and he crumpled to the ice, where he lay several minutes as medical personnel attended to him. (Here's a
link to the video
.) Canadiens coach Jacques Martin described Pacioretty's neck injury Wednesday as a non-displaced fracture of the fourth cervical vertebra.
"I'm not a medical doctor," Martin
told The Montreal Gazette
and other outlets after practice on Wednesday. "What's important is that there's no displacement.
"Our first concern (as an organization) is that he gets his health back as a human being. You hope he'll recover and continue his career, but it's too soon to know his (potential) limitations. He's still under observation."
Martin added Pacioretty would be out of action indefinitely.
Chara, who also got into a scuffle with Pacioretty the pervious time these two teams met, was assessed a major boarding penalty and a game misconduct for the collision.
"The one thing that everybody here hopes, is that the human side of us wishes for (Pacioretty) to recover quickly and well," Bruins coach Claude Julien told
Comcast SportsNet New England
. "That would something that everybody hopes, here. I know that (Chara) is going through a lot of stuff right now, and is being perceived as a dirty player, which anybody who knows Z, knows that's not the case."
Murphy said he not only took into account the video evidence, but the entirety of Chara's 13-year NHL career. Chara drew an automatic one-game suspension under the NHL's instigator rule as a member of the Ottawa
Senators
in December 2005, his only career suspension.
"I could not find any evidence to suggest that, beyond this being a correct call for interference, that Chara targeted the head of his opponent, left his feet or delivered the check in any other manner that could be deemed to be dangerous," said Murphy, who handled the decision because Colin Campbell, the league's normal disciplinarian, has a son, Gregory, on the Bruins.
Before news Chara avoided a suspension broke, some of Pacioretty's teammates openly wondered how such a veteran player like Chara could have been caught in that position.
"I don't know what Chara was thinking, what he felt or what his awareness was on the ice," Habs forward Michael Cammalleri said
on the team's official website
. "I can't comment on his intent. There are two types of hits in hockey -- the kind that are strategic and tactical, designed to get the guy off the puck and make a play, and then there's the kind when you catch another guy in a vulnerable position and try to inflict some damage. It's how a lot of people are taught to play when they're young, and it makes it a tough mandate to change that attitude."
For Pacioretty's linemate
Scott Gomez
, said something he heard was just as jarring as watching the collision. .
"What I remember about it was the sound -- it sounded like a gun: bang!" Gomez told
The Associated Press
. "Stuff like that is tough to look at."
Photo: Getty Images