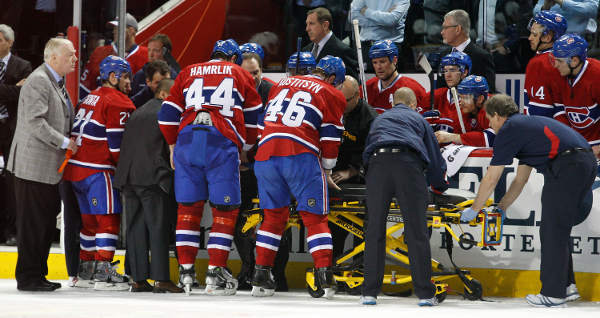 Count
Max Pacioretty
among those in and around Montreal miffed that Boston
Bruins
defenseman
Zdeno Chara
escaped a fine or suspension on Wednesday.
The 22-year-old Montreal
Canadiens
forward told
TSN's Bob McKenzie
exactly what he thought about the league's decision:
"I am upset and disgusted that the league didn't think enough of (the hit) to suspend him," Pacioretty told me. "I'm not mad for myself, I'm mad because if other players see a hit like that and think it's okay, they won't be suspended, then other players will get hurt like I got hurt.

"It's been an emotional day. I saw the video for the first time this morning. You see the hit, I've got a fractured vertebrae, I'm in hospital and I thought the league would do something, a little something. I'm not talking a big number, I don't know, one game, two games, three games...whatever, but something to show that it's not right."
Mike Murphy, the NHL's Senior V.P of hockey operations,
said in a statement Wednesday
the league could "find no basis to impose supplemental discipline" against Chara. All Chara received for his check on Pacioretty that caused a severe concussion and a fracture bone in Pacioretty was a five-minute major for interference and a game misconduct on Tuesday. Here's a link to
the video of the hit.
"I believe he was trying to guide my head into the turnbuckle. We all know where the turnbuckle is. It wasn't a head shot like a lot of head shots we see but I do feel he targeted my head into the turnbuckle."
The outrage was hardly limited to a patient room at Montreal General Hospital. Several fans called Montreal police to express their outrage, according to
The Canadian Press
:
The calls demanding criminal charges began Wednesday afternoon, shortly after the NHL announced it would neither suspend nor fine Chara for a brutal hit on the Habs' Max Pacioretty.

While the league closed the books on the incident, and even Montreal Canadiens players remained tight-lipped, many of the team's livid fans demanded action.

Police say their emergency call center started getting flooded around 4 p.m. -- after the NHL announced its decision.
News of the inundation of emergency calls, also picked up by independent
Bruins blog Stanley Cup of Chowder
, is hardly surprising. Habs faithful took to Twitter to urge fans to "unfollow" the NHL's official Twitter feed and cancel their Center Ice subscriptions. Canadian Sports Minister Gary Lunn urged the NHL needs to take such hits more seriously. Even Air Canada, a major corporate partner of the NHL, is threatening to withdraw its sponsorship dollars.
While there is precedence for it, there's unlikely to be a criminal complaint filed against Chara -- especially if Pacioretty doesn't pursue charges.
OVI BACK ON TRACK:
He has points in six consecutive games. He finally scored his first power play goal at home this season. He seems to be his old jovial self on the bench.
Is Washington
Capitals
superstar forward
Alex Ovechkin
finally back on his game?
Ovechkin scored twice in the Caps' 5-0 victory over the Edmonton
Oilers
at Verizon Center Wednesday night. Sure, the Oilers have the worst record in the league, but Ovechkin has played a role as Washington matched a season-best six game win streak.
"I can't remember (the team) scoring five goals in a game (recently)," said Ovechkin, who has three goals and seven assists over the last six games. "It was a good night for us and a good night for the fans too."
Ovechkin has 27 goals, so it's not out of the realm for him to reach 40 goals. It'd still be a career low, although he'd have some momentum heading into playoffs.
WEDNESDAY'S RESULTS
St. Louis 4, Columbus 3 (OT)
Washington 5, Edmonton 0
Atlanta 3, Carolina 2 (OT)
Tampa Bay 4, Chicago 3 (SO)
Los Angeles 2, Detroit 1
Calgary 4, Dallas 3 (SO)
Anaheim 5, NY
Rangers
2
Playoff tracker
Photo: Getty Images