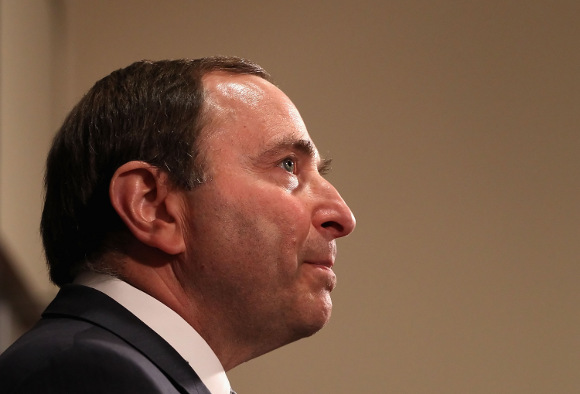 NHL Commissioner Gary Bettman said Thursday he backs the league's decision not to suspend Boston
Bruins
Zdeno Chara
, even as many fans and sponsors were angered no punishment was meted out for the check that left Montreal
Canadiens
forward
Max Pacioretty
injured.
"Our hockey operations people are extraordinarily comfortable with the decision that has been made," Bettman said in a briefing designed to promote the game of hockey on Capitol Hill. "I think it was a horrific injury. We are sorry it happened in our fast-paced, physical game. But I don't think whether or not supplemental discipline is imposed would change what happened. In fact, people in the game I've heard from almost to a person . . . believe it was handled appropriately by hockey operations."
Obviously, Bettman hasn't spoken to Pacioretty, who suffered a fractured vertraba in his neck and a severe concussion after a check from Chrara Tuesday night sent him headfirst into a divider between the benches. (Here's a
link to the video
.) He told
TSN's Bob McKenzie
that he thought Chara deserved at least a couple games for the check.
Just because the league failed to act, Chara may not be totally off the hook.
Quebec's Director of Criminal and Penal Prosecutions said was recommending an investigation of the incident, according to
French-language news outlet Rue Frontenac
. The investigation will begin immediately, Montreal police Constable Olivier Lapointe, told
The Montreal Gazette
.
The Canadian Press
reports Quebec has pursued three criminal cases in the Quebec Major Junior Hockey League players since 2008, most notably Atlanta
Thrashers
prospect
Patrice Cormier
. The province has instituted strict laws in recent years in an attempt to curb hocky violence, which could come into play in Tuesday's incident.
Here's a link to
video Bettman at the panel discussion
in Washington on Thursday via TSN.
Photo: Getty Images