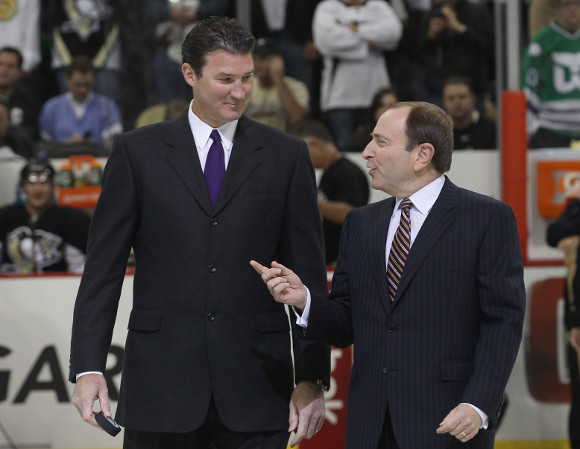 Possibly the most interesting of NHL commissioner Gary Bettman's five suggestions to help curb the rise in concussions was penalizing teams
and
coaches who habitually run afoul of the league's supplementary discipline program.
"The notion is if there's a situation or a club where this seems to be out of the norm, something that continues to happen on a repeated basis, it should be addressed," Bettman (above, right) told reporters at the GM meetings on Monday.
We suggested yesterday that it should be called the "Trevor Gillies Rule" -- and that was before
ESPN.com reported Mario Lemieux
sent a letter to the league asking for a sliding scale. Here's how Lemieux (above, left) would make the fine structure for teams:
1-2 games: $50,000
3-4 games: $100,000
5-8 games: $250,000
9-10 games: $500,000
11-15 games: $750,000
More than 15 games: $1 million
Gillies, an enforcer on the New York
Islanders
, received what the
Penguins
faithful felt was a lenient nine-game ban after a blindside hit to the head of Pittsburgh's
Eric Tangradi
on Feb. 11. In his first game back from suspension, he delivered a similar hit to Minnesota's
Cal Clutterbuck
that resulted in a 10-game suspension.
The Islanders were fined $100,000 for thier role in the brawl against the Pens, although Isles coach Jack Capuano was not sanctioned.
"While there have been 50-plus suspensions since the start of the 2009-10 season, the suspensions themselves don't seem to be deterring these illegal acts and tactics," wrote Lemieux. "And we've often seen repeat offenders. We think it is time that teams also are held accountable for the actions of their players. We propose instituting a policy of automatically fining a team when one if its players is suspended -- with the amount of the fine based on the length of the suspension. This should serve as a disincentive for teams as well as players to employ these kinds of tactics."
And, as the letter obtained by ESPN.com points out, the Pens would be on the hook for $600,000 had this been put in place before the season thanks to
Matt Cooke
(four games) and
Eric Godard
(10 games).
It will also be interesting to see what will be addressed from an equipment standpoint. The league and the players union have agreed to putting soft caps on elbow and shoulder pads in recent seasons, doing away with the equipment that looked like it was suited more for an offensive lineman than a forward.
Still, not much has evolved when it comes to the helmet. Few players are using the more advanced Cascade Messier Project helmet introduced a couple years ago and Mark Messier, who teamed with sister on the project, thinks he knows why.
"I think (NHL players) look at it sometimes and feel that because we live in such a bravado world that if they're wearing that helmet you must have a fear ... that you're afraid," Messier told
The Montreal Gazette
.
He should know. For years he
wore the old Jofa lid
that was marketed as a broomball helmet with the warning "not for hockey use" when I began playing the sport.
To solve this concussion issue -- if that will ever truly happen -- there needs to be change of attitude on a few different levels. If you're not going to listen to Bettman for whatever reason, it's hard to ignore the suggestions from Hall of Famers such as Lemieux and Messier.
MONDAY'S RESULTS
Tampa Bay 6, Toronto 2
Chicago 6, San Jose 3
Vancouver 4 Minnesota 2
-- A.J. Perez
Photo: Getty Images