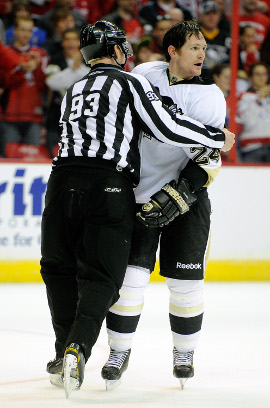 Matt Cooke
, the Pittsburgh
Penguins
' controversial forward, was suspended the rest of the regular season and the first round of the playoffs, the NHL announced Monday.
"Mr. Cooke, a repeat offender, directly and unnecessarily targeted the head of an opponent who was in an unsuspecting and vulnerable position," Colin Campbell, the NHL's senior V.P. of hockey operations, announced in a statement. "This isn't the first time this season that we have had to address dangerous behavior on the ice by Mr. Cooke, and his conduct requires an appropriately harsh response."
Cooke was given a five-minute major and game misconduct for elbowing New York
Rangers
defenseman
Ryan McDonagh
in the head ealry in the third period of Sunday's game. (Here's a
look at the replay
.) This is the fifth time he's been suspended during his career and second time this season, making him a repeat offender under the league's collective bargaining agreement.
Penguins GM Ray Shero -- who advocated for a zero-tolerance policy on head hits at the NHL's general manager meetings last week -- agreed with Campbell's punishment.
"The suspension is warranted because that's exactly the kind of hit we're trying to get out of the game," Shero said in a statement. "Head shots have no place in hockey. We've told Matt in no uncertain terms that this kind of action on the ice is unacceptable and cannot happen. Head shots must be dealt with severely, and the Pittsburgh Penguins support the NHL in sending this very strong message."
Cooke will forfeit $219,512.20 in salary. The suspension, which could be as much as 17 games if Pens' first-round series is stretched to seven games, is the longest in franchise history.
Detroit forward Henrik Zetterberg told reporters before Monday's game against the Penguins he'd like to have seen an outright ban for the rest of the season.
"I think the suspensions he gets doesn't really bother him," Zetterberg
told USA TODAY
. "He keeps going out and doing that stuff."
The loss of Cooke compounds the Pens' lack of depth in the forward ranks. While
Chris Kunitz
recently returned from injury, Pittsburgh si still minus Sidney Crosby (out indefinitely with a concussion), Evgeni Malkin (out for season with a knee injury),
Mike Comrie
(hip) and Eric Tangradi (concussion).
"What puts us is a tough spot is when he misses games," Penguins forward
Craig Adams
told the
Pittsburgh Tribune-Review
. "He's a great player, and people don't realize how good of a player he is; if you don't watch him play every night you don't know. We know."
Cooke has 12 goals, 18 assists and is a plus-14 this season.
-- A.J .Perez
Photo: Getty Images