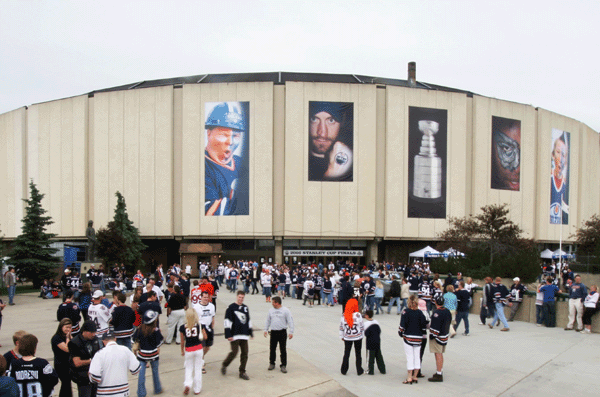 Edmonton's city council took the first steps toward a new arena for the Oilers, passing a motion that will reportedly allow city planners to enter into negotiations with the franchise's ownership group.
"There's a lot of work still to do, but if we get this right, there could be huge payoff to the center of our city," councilman Ben Henderson told the Edmonton Sun after the motion was passed Wednesday evening. "We'd be looking a gifthorse in the mouth not to take advantage of that."
There are seventeen conditions (seen here via CHED-AM's Dan Tencer) that need to be met in order for the project to move forward.
The council heard several hours of discussion before the vote took place. Team owner Daryl Katz is pushing for a new $450 million arena. It would be part of a plan to help revitalize the downtown area in Edmonton -- and possibly be needed to keep the team in town.
But as of now, there have been hangups over who will pay for a new arena. Katz has said he would offer $100 million toward the project and a proposal has called for an arena tax and a levy on nearby businesses to help cover the costs. But there's still a gap for all the finances.
As we have seen in stadium and arena battles across all sports -- In the NBA with Seattle and most recently Sacramento, plus rumblings around the New York Islanders -- that can lead to a rough fight and sincerely sad turn of events. Because, as the Edmonton mayor has already warned, not replacing Rexall Place could leave the Oilers drilling elsewhere down the line.
Rexall Place originally opened in 1974 and has undergone renovations since, most recently in 2007-08 when $3.5 million were put toward updating the locker rooms and player lounges. The last thing anybody wants to see is another one of the Canadian teams leaving a hockey hotbed, joining Winnipeg and Quebec on the emmigrant list.
-- Brian Stubits
Photo: Getty Images