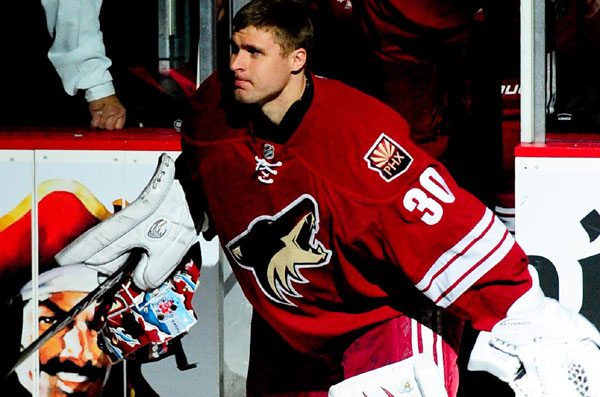 The minute the Coyotes lost -- OK, well before they lost -- it was rumored a move to Winnipeg would be next for the struggling franchise. That's been the topic of discussion and the fear among Coyotes fans. Apparently it's a fear among some players, too.
Goaltender Ilya Bryzgalov, a large reason Phoenix has reached the postseason the last couple of seasons, isn't interested in being a Jet.
Courtesy of the Winnipeg Sun :
"You don't want to go to Winnipeg, right?" Bryzgalov said after the Coyotes lost to Detroit, Wednesday night. "Not many people live there, not many Russian people there. Plus it's cold. There's no excitement except the hockey. No park, no entertaining for the families, for the kids. It's going to be tough life for your family."
It's an interesting take, to say the least. It validates what some say, that, even though the fan support and interest aren't there, some players like playing in Southern markets where it's warm and hockey isn't the only draw in town. You would think a Coyote, who had to listen to his "home" crowd cheer when he surrendered any score to the
Red Wings
, might like the idea of a fervent fan base behind him.
So if the Coyotes do become the Jets -- or whatever nickname they would take -- what's next for Bryzgalov, a free agent this offseason? His home would be in play.
"I better go to somewhere in Russia, KHL, to be honest. Because KHL is Russian people, it's family, friends. Even as a cold place, I can speak to people in Russian language."
Losing Bryzgalov would be a blow for the franchise, but I don't think the fans in Winnipeg would be taken off their cloud if they get a team back in town. But just know, Coyotes fans, you aren't alone in not wanting the team to leave the desert.
-- Brian Stubits