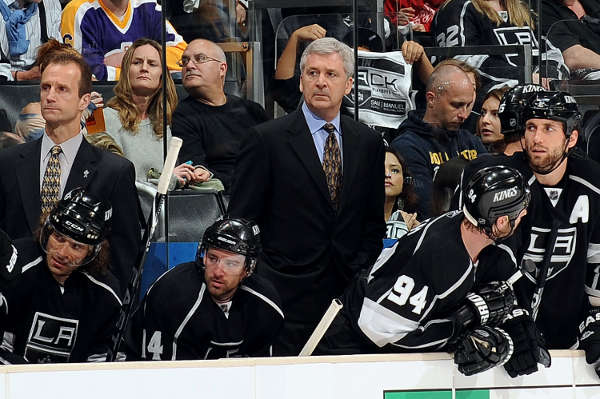 LOS ANGELES --- Los Angeles
Kings
coach Terry Murray called San Jose
Sharks
forward
Dany Heatley
's actions "gutless" minutes after his squad fell 6-3 in Game 4 of the first-round series at Staples Center on Thursday.
Murray took issue with Heatley's trip of Kings defenseman
Alec Martinez
that occurred with about three minutes left in the third period. Heatley was called for a tripping minor, although Murray said it was actually a slew foot – the act of using a leg or skate to kick another player's legs out from underneath him.
"That's a very dangerous play," Murray said. "That's where you break your leg. That's where you blow your knee out. I hate that play. That's a gutless move in my mind. You just don't do that in hockey."
Slew-footing can result in a major penalty, an ejection and can subject a player to fine or suspension; the act can also be reviewed under the league's supplementary discipline guidelines even if it's not called duirng the game.
San Jose Sharks coach Todd McLellan, who spoke to reporters immediately after Muray's news conference, said he couldn't comment on the alleged incident since he hadn't seen the replay.
And Murray wasn't done talking about Sharks players and penalties.
He credited Sharks forward
Scott Nichol
for drawing Kings defenseman
Drew Doughty
into a coincidental rouging minor penalty in the second period. (Replays showed that Nichol was upset after a near knee-on-knee collision.)
Ryane Clowe
and
Jason Demers
scored on the ensuing 4-on-4 as the Sharks took a 2-0 lead.
"You can't lose Doughty to Nichol," Murray said. "Give him credit. He's the reason they won tonight. . . . You just don't want to lose your top defenseman to a player of that stature."
Doubt that was a knock on Nichol's 5-foot-9 frame. Nichol is a fourth-line center with no points in the series. Nichol also drew a double minor when Kings defenseman
Matt Greene
clipped him with a high stick. Clowe scored his second goal of the game on the power play.
--- A.J. Perez
Photo: Getty Images