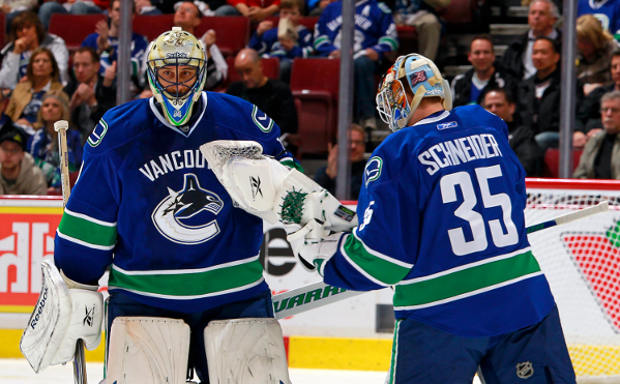 Vancouver
Canucks
goalie
Roberto Luongo
has allowed 10 goals over the last 30 shots he's faced, but he will find himself back in the net for Game 6 on Sunday .
Is that the right call?
Canucks coach Alain Vigneault told reporters that he's not going away from Luongo after a 5-0 loss to the Chicago
Blackhawks
in Game 5 on Thursday night. He was pulled for the second game in a row as the 'Hawks staved off elimination again.
Luongo told
The Chicago Tribune
that he's not about to change how he goes about things:
"I've been at the top of my game for the last five months. I feel good in what I've been doing. Just make sure you apply that process in a game. Obviously you don't lose something like that in a game or two. For me, nothing changes. The work is going to be there and I'm going to be focused to play the next one."
While Luongo has had his struggles in the postseason, the Canucks haven't had a viable backup the past couple postseasons. That changed this season as
Cory Schneider
went 16-4-0 with a healthy .929 save percentage, although he did let in the first shot he faced when he came into the game in relief on Thursday.
-- A.J. Perez
Photo: Getty Images