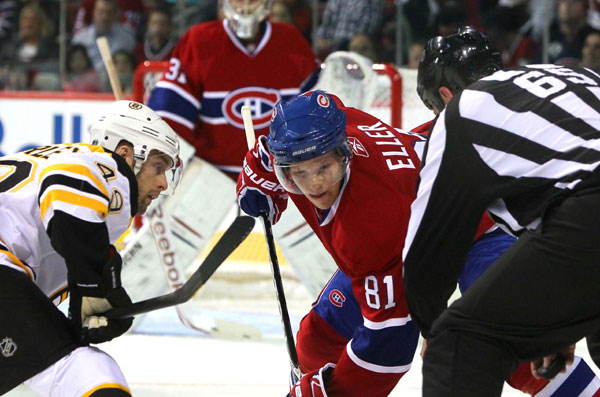 No. 6 Montreal Canadiens vs. No. 3 Boston Bruins
Time:
7 p.m.ET
TV:
Versus
Road to Game 7
The Canadiens took the first two games of the series, stealing home-ice advantage and then some.
Patrice Bergeron
scored the only goal for the Bruins in those two losses, but the Bruins bounced back with 11 goals over the next three games to take a 3-2 series lead with two of the tilts going to OT.
Brian Gionta
, who had a goal disallowed via quick whistle earlier in the game, scored the winner in Game 6 as the Habs forced a decisive game with a 2-1 victory on Tuesday. He also leads the series in scoring with three goals and six assists.
In net
Carey Price
(Montreal) vs.
Tim Thomas
(Boston): Two of the best goalies of the regular season haven't disappointed. While they each have a 3-3 record, Price has the edge in the stats department. He has a .942 save percentage and a 1.85 GAA, while Thomas owns a .928 and a 2.16 GAA.
Injury report

The Habs were without defenseman
James Wisniewski
(apparent back injury) and forward
David Desharnais
(sprained knee) in Game 6 after each got hurt a game prior. Montreal forward
Max Pacioretty
remains out with a concussion. The Bruins' only noted injury remains Marc Savard (concussion).
Our picks
A.J. Perez:
Take away the fact the Habs scored both their Game 6 goals on 5-on-3 power plays, this series would be over. (Of course, Gionta had a goal needlessly called back, so possibly we'd still be going.) I'm going to have to take Boston, especially if
Milan Lucic
doesn't receive a suspension for his boarding of Habs defenseman
Jaroslav Spacek
.
Brian Stubits:
I've been riding with the Bruins all postseason long, no point in jumping off now. This series has not been lacking in intensity, so when it ticks up a notch further, I'm going to like the home team with the raucous arena. It's worth noting that both Game 7s so far have gone to the home team -- also worth noting they were the expected winners, but still. Expect another very tight affair, can't see either team getting away from the other, with the Bruins emerging over the hated rivals from Montreal.