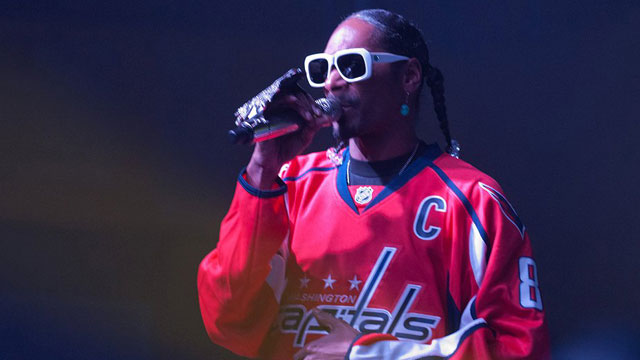 Snoop Dogg is used to rocking arenas. Now he's Rocking the Red. Or at least he did.
The burgeoning hockey fan was sporting an Alex Ovechkin jersey at a recent concert in Baltimore. You know your sport is picking up in popularity when Snoop is hopping on board.
It's not uncommon for artists to play to the local fans and wear a jersey of the local team. But it's still cool to see somebody from the rap world going with a hockey sweater instead of, say, a Ravens jersey.
It's not his first dip into hockey, either. In the last year or two he's made multiple appearances around the sport, including going to a Ducks game because his son wanted to. Heck, he's even tried playing.
And who can forget when Snoop Doggy Dogg -- as he was known then -- sported a Mario Lemieux jersey in the Gin and Juice video?
Yes, it's Beautiful to see Snoop Dogg getting closer to hockey. It's great to see him in the jersey of one of Amerikaz Most Wanted because he's Dropping it Like it's Hot. OK, we'll stop.
-- Brian Stubits
-- Photo courtesy of
Andy Hsu