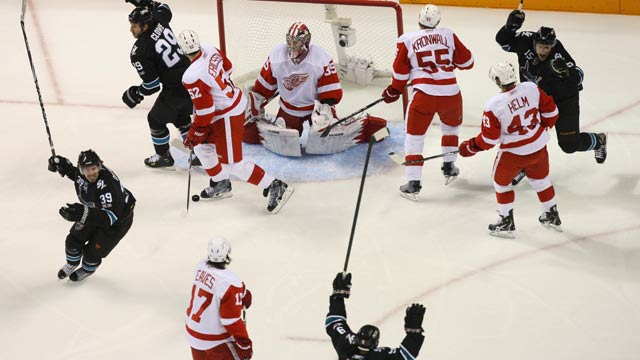 The Detroit
Red Wings
were on their way to losing their sixth playoff game over the last seven against the San Jose
Sharks
and it showed.
Tomas Holmstrom
negated a crucial Wings power play with a roughing call drawn by Sharks defenseman
Jason Demers
early in the third period. That penalty put a serious crimp on a chance to answer the eventual game-winning goal by
Niclas Wallin
as the Sharks earned a 2-1 victory at the HP Pavilion on Sunday to take a 2-0 series lead.
"We are ready for them," Demers told reporters after the game. "It's the playoffs. Everybody is hit. Everybody is contributing to the physicality side of it. It's good to see tonight that we pushed back when we are being pushed."
The Red Wings have made the playoffs 20 seasons in a row, but these Sharks are by no means intimidated by the winged wheel. Nor should they be. They are much deeper than the Phoenix
Coyotes
-- who the Wings swept in the first round -- and the Sharks seemed to have shaken out the uneven play from their first-round matchup against the Los Angeles
Kings
.
Beyond Holmstrom's penalty,
Todd Bertuzzi
was also called for roughing, but at least he took Shark
Ben Eager
with him to the box in the second period. Wings goalie
Jimmy Howard
also got a few whacks in on Sharks forwards, usually after when snow showers were shoveled his way by
Joe Pavelski
. Both Howard and Pavelski were called for roughing for similar behavior in Game 1.
Sharks coach Todd McLellan, a former Red Wings assistant, isn't a fan of those antics as a means to unsettle Howard.
"When it comes to snow showers, I have no time for gimmicks or crap like that," McLellan said (
via CSN Bay Area
). "If our players do that, they're going to hear it from me, but they're going (to hear it) from me if they don't go into the blue paint and look for the puck. But this is not a circus, it's not a clown show."
Red Wings captain
Nicklas Lidstrom
told CSN Bay Area that Detroit has brought the snow flurries to the attention of officials.
"That's up to the refs," Lidstrom said. "It's obvious they are trying to do it. We spoke to the refs about it several times. They have to do something about it. You have to get away from that."
A key for Wednesday's Game 3 is for the Sharks not to try to overdo the physical play and take some unnecessary penalties of their own. The Wings are still potent with the man-advantage and their only goal Sunday came on a
Henrik Zetterberg
maker on the power play with six minutes left in regulation.
"We have played each other (the last two) years in the postseason," Sharks captain
Joe Thornton
said. "With good teams comes a little bit of hatred in the game. There's nothing real cheap, but guys are playing hard. That's what you expect in the playoffs."
-- A.J. Perez