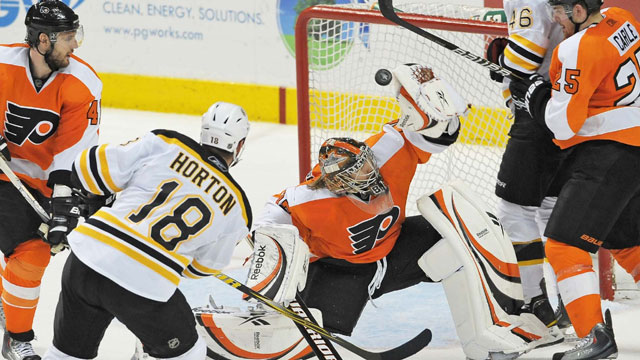 On the verge of extinction in this year's playoffs, the Flyers appear to be changing goaltenders. Again.
It comes as no surprise that Philly is going to return to Sergei Bobrovsky in Game 4 in Boston. The Flyers have been changing netminders as if they were going out of style in the playoffs, something they also did last season on their way to the Stanley Cup Finals. But the merry-go-round hasn't worked as well this postseason. At least not yet.
Entering the playoffs, Bobrovsky was the No. 1 guy in net. That lasted all of two games. Since that time, Bob has gone from starter to backup to third string, sitting behind Brian Boucher and Michael Leighton. Well, now down 3-0 to the Bruins, he's apparently back to being the starter, the last hope to ignite Philly as it looks to pull off the impossible once again, coming all the way back to beat the Bruins.
Philadelphia hoped before the season Bobrovsky could be the answer to its goaltending riddle, and he began the year playing well, giving Philly the look of a possible Cup favorite. As the year wore on, so did Bobrovsky, and we end up where we are today.
If the swap does happen, Danny Briere wouldn't mind.
"I thought he looked great in relief in the Boston series," Briere said. "Sometimes a lot has to do with how you feel against a team. Certain teams for goalies, maybe he can come in and feel good and see the puck well against the Bruins. I don't know if he's playing or not tomorrow, but if he's in there, I'd feel very comfortable."
Coach Peter Laviolette seems to think Bobrovsky could help stem the tide.
"Bob, he came in off the bench going in for the injury there (in Game 2) and I thought he did a good job last night," Laviolette said. "He was good. Again, our team, the goals that went in last night, the first two, we need to be a lot better with what we do in our game in front of our goaltenders. There weren't a lot of chances, but we gave up too many good ones, too many quality ones."
Either way, the Flyers need something, anything, to get them off the ground
-- Brian Stubits