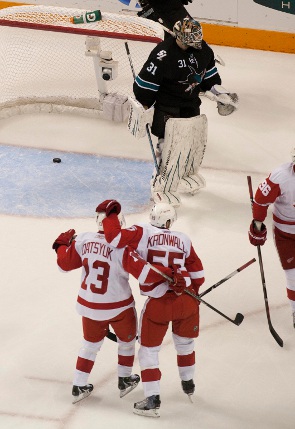 Pavel Datsyuk
's sore wrist prevented him from taking faceoffs in Game 5, but the
Red Wings
center still had the passing touch.
Datsyuk had three assist as the Red Wings extended the second-round series again, this time with a 4-3 comeback victory over San Jose
Sharks
on Sunday night.
His final assist came after he swiped the puck from Sharks forward
Patrick Marleau
, danced around the ice for a bit then hit an open
Nicklas Lidstrom
, whose blast was deflected in by
Tomas Holmstrom
for the game-winner.
"Pav was really good," Detroit coach Mike Babcock said after the game. "I don't think he was great early, but he was outstanding in the third period. He really dug in and competed.
"It's interesting. As you watch the playoffs, there are lots of nice players in the regular season and they have good skill level and all that. But if you don't have a drive train and if you don't compete at the highest level, you aren't going to compete this time of year."
One of the Babcock's usual playoff stalwarts,
Johan Franzen
, wasn't able to grind it out the entire game.
An ankle injury suffered in Game 2 of the first-round series against the Phoenix
Coyotes
again made Franzen, known as "the Mule," all but immobile on the ice, although he did move pretty quickly when he thought Sharks captain
Joe Thornton
targeted his injury in the first period. Franzen got two minutes for slashing, while Thornton went off for unsportsmanlike conduct after he embellished the swipe.
Here's a look at the incident:
And here's a
more humorous look at Thornton's dive
you "Star Wars" fans will appreciate.
"It's been hard for the Mule," Babcock said. "The Mule is a star at playoff time. Playing on one leg has been hard for him. "
Franzen's last shift came midway through the second period and Babcock was forced to shuffle his lines even more. He had already scratched
Jiri Hudler
in favor of the quicker
Drew Miller
before the game.
Babcock said it's up to Franzen whether he'll play in Tuesday's Game 6.
"I don't know what will happen there," Babcock said. "He'll just tell me if he's going or not. If he can go, we're going with him."
If he can't, we might see veteran
Mike Modano
. Modano has played in only one game in these playoffs, Game 4 in the first round, and missed half of the regular season after wrist surgery.
-- A.J. Perez
Photo: US PRESSWIRE