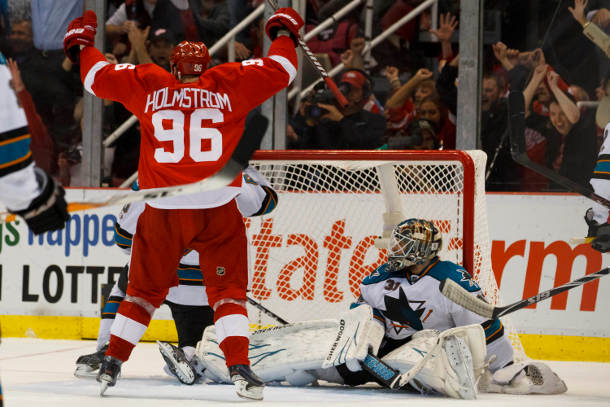 In close proximity to the Big Three, this Detroit
Red Wings
comeback doesn't come close to Ford, GM and Chrysler all returning to profitability at the same time.
That's because the San Jose
Sharks
have been more generous than any stimulus package the latter two car companies received from the governments of the U.S. and Canada. The Red Wings almost couldn't help themselves but force a decisive Game 7.
Facing a soft defense that retreated toward its own net in a misplaced attempt to hold onto the lead,
Henrik Zetterberg
deflected in a blast from a wide-open
Niklas Kronwall
to tie the game. Two minutes later Sharks rookie forward
Logan Couture
passed the puck directly to
Valtteri Filppula
, who finished the play be burying a cross-ice pass from
Pavel Datsyuk
for the game-winner. Add in an empty-net goal by
Darren Helm
and the Red Wings seized a 3-1 victory at Joe Louis Arena on Tuesday night.
Now, the Red Wings stand to become the fourth team in NHL history to advance despite dropping the first three games with a Game 7 victory in San Jose on Thursday. The Wings are already the eighth team to even a series after starting 0-3 -- and the third over the last two postseasons as they join the Philadelphia
Flyers
(won Game 7 to advance over Boston) and this season's Chicago
Blackhawks
(lost Game 7 to Vancouver).
"We shouldn't have been down 0-3," Red Wings coach Mike Babcock said. "We were playing pretty well. We had a chance to win them all. That's how tight a series this has been. . . . You would have thought that it'd a long series that would go six games. It's going to seven games. It's good for hockey."
Maybe outside the Bay Area. The Sharks, tagged as perennial chokers, didn't help their cause and the term "sanjoseitis" could find its way to into the next Scrabble dictionary. (Props to former NHLer
Aarron Ward for coming up with that
.)
Silicon Valley survived the dotcom bubble of a decade ago, but will the Sharks and their fanbase get over a loss at HP Pavilion on Thursday? Sharks coach Todd McLellan said he'll do his best not to let them down.
"I think anyone who has been in our building understands the noise level and the rabid fans we have," he said. "The support we get in San Jose is remarkable. We have a Game 7 and we need to make sure they leave the rink happy. That's our job."
The Sharks really had no business even being in the hunt until the closing moments of Game 6. Antii Niemi played his best game of the series -- maybe the best playoff game since he helped the Blackhawks to the title a year ago -- as he turned away the 32 shots through the first two periods. He finished with 42 saves.
"We were awfully lucky to even be in the game in the third period," McLellan said. "I'm not too concerned about (blowing the lead)."
McLellan expects his players to be ready for Game 7, even if they sleepwalked through two periods on Tuesday.
Sharks in Game 7s
April 30, 1994 - def. Detroit, 3-2
May 14, 1994 - lost to Toronto, 4-2
May 19, 1995 - def. Calgary, 5-4
April 25, 2000 - def. St. Louis, 3-1
May 15, 2002 - lost to Colorado, 1-0
April 22, 2008- def. Calgary, 5-3 *

* - home game for San Jose
"As far as confidence goes, each player has a toolkit, a skillset (and) a commitment level he has to bring to the rink," San Jose coach Todd McLellan said.
Although it's easy to join Jeremy Roenick
, maybe
Patrick Marleau
misplaced his hammer, level and crescent wrench at some point between the first and second rounds. He again went without a point in Game 6 and remains scoreless in series, but it was Couture --- not Marleau --- who coughed up the turnover that led to Tuesday's game-winner. In Couture's defense, he did score the game's first goal early in the third period.
"I don't see (Marleau) getting nervous or anything like that," McLellan said. "Do we need him to get involved? We need him to play effectively, shift in and shift out. I think there is more there. I know he believes there is more there. We have to find a way to get it out of him."
The Sharks may not have momentum, but they do have some favorable history on their side. The Sharks have won four of the six Game 7s they've been involved in, including 1994 when the Sharks stunned the Red Wings with a goal by Jamie Baker after a failed clear by Detroit goalie Chris Osgood.
Seventeen years later, Osgood is still with Red Wings -- although out of the lineup after hernia surgery -- but he can tell you just one wrong move can cost you a series at this point. One team's goat is the other team's hero, and McLellan said his roster is full of competitors who can be the next Baker.
"A lot of our players will have the stage in Game 7," McLellan said. "We've learned a lot of lessons along the way and been taught a lot of lessons along the way. The stage will be thiers."
-- A.J. Perez


Photo: US PRESSWIRE