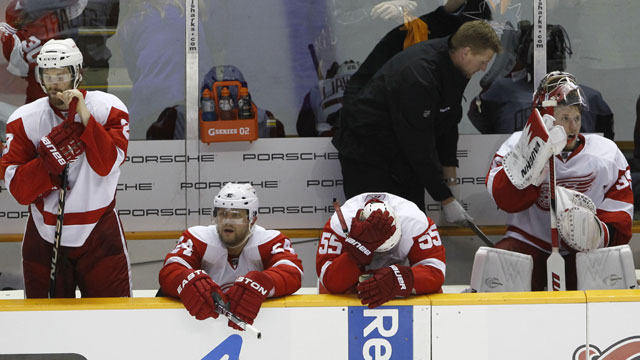 Entering Game 7, it was clear which team would have the advantage in the intangibles: experience, momentum, poise, etc. Those all belonged to the Red Wings. And it showed. They were the veteran group comfortable in the spotlight as they had been there so many times before.
Perhaps Detroit was too comfortable. The Wings came out knowing all too well they had to stem the tide in a rocking arena on the road. They weren't taking many chances, trying to make their way through. As a result, they were outworked and outplayed in the opening period. And they left it trailing by two.
They did have 11 shots on net in the first, but a lot was just firing from beyond the dots. The quality chances weren't there. The team was not interested in being caught in transition. They were relaxed. It looked like they weren't willing to take the risk for a shot at the rewards.
But the somewhat sleepy first period doesn't explain the night away. As much as they were dominated in the first period, they were as dominant in the second, getting one goal to show for their efforts.
"We pushed the issue the rest of the game, but their goalie was outstanding. I thought this series was a good series. It was entertaining, it was fast," coach Mike Babcock said after the game.
Babcock credited some line changes necessitated by the injuries to Todd Bertuzzi and later a friendly-fire hit on Dan Cleary as being the catalyst to get them back in. Yes, for a team that had erased a 3-0 deficit to get here, a 2-0 lead in a game didn't seem insurmountable. That doesn't mean those guys going down didn't hurt.
"We missed those guys, but it was an opportunity for other guys. I'm proud of our group, our group worked real hard," Babcock said.
On this night, though, it was the special-teams battle that didn't go Detroit's way. Not only did they give up a goal on the penalty kill, but they couldn't get much going on their own opportunities a man up. It seemed that everytime there was a faceoff in the offensive zone, it went the Sharks way. Then it was an adventure just to get the puck back into the zone for a great puck-controlling team.
The special-teams difference was one goal, and wouldn't you know that was the difference.
"Your disappointed tonight for sure, you're disappointed in your heart as you felt you were going to win tonight for sure."
Now you have to wonder if this is the last we've seen of this group of Red Wings. No, the window isn't completely closed. If we've learned anything in the last two decades it's that Detroit always does a goob job of restocking without becoming irrelevant. Take, for example, that this is the 20th straight season the Red Wings have been in the postseason, the same number of seasons the Sharks have been in existence.
"I'm pleased with the growth of our young players. Our high-end forwards. [Pavel] Datsyuk and [Henrik] Zetterberg were fantastic in this series and I think that's real important," Babcock said. "They showed great leadership quality, which is fantastic. We still feel we have a real young core and an opportunity to get better. As we continue to change our organization to try and be current, we need these guys to be great."
It's very possible Nicklas Lidstrom has played his last NHL game. But would anybody be surprised if he returns after watching the way this team never quit in this series? Regardless, the stalwarts from the last decade-plus are going to make way for the next generation of Wings soon.
Either way, we're talking about probably the classiest franchise in the game. There's a reason the Red Wings have become a playoff mainstay. It was on display all series long. It was a team that never quit, never panicked. They did Hockeytown proud.
-- Brian Stubits