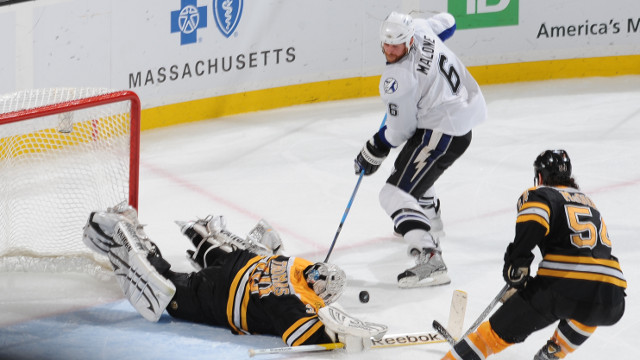 BOSTON – There's not too many times a goalie who allowed five goals is lauded in the NHL, especially in a playoff game where low scores are rule not the exception like in Game 2 of the Eastern Conference finals on Tuesday night.
Boston
Bruins
goalie
Tim Thomas
, however, isn't the typical goalie. He does the unexpected, like when he tossed his body every which way to keep the Bruins on top en route to a 6-5 victory.
There seemed to be reason for concern after the Bruins' three-goal lead after a dominant second period dwindled, although Thomas did everything he could to keep the puck out --- and even battled after his masked got knocked off. Thomas sustained a cut over his left eye in the scrum as
Dominic Moore
scored to make it one-goal game with seven minutes left in regulation.
"I haven't seen the replay," Thomas said of the goal. "I've been told that the puck went off my head. But I didn't even realize it. At that point I was trying to find it, I think."
Thomas made the next nine saves, including one when he used his head --- this time with his mask on --- to stop a
Marc-Andre Bergeron
shot after another scramble out front with 3:51 left. Thomas said afterward that he doesn't look at the clock, not there was much time to do so as it ticked down.
"I can hear it when they call out it's the last minute of the game and that's the only reference point that I have,' Thomas said. "It shouldn't matter whether there's 30 seconds or three seconds, you gotta have the same type of focus and try just as hard to stop the puck. So, I really wasn't focusing too much on that."
Thomas, 37, admitted that he would have been a little flustered after a decent-sized lead shrunk to a one-goal margin when he was younger.
"With our big second period there, I knew we had a big lead going into the third period and the plan wasn't to let them get close at all," Thomas said. "But when it gets 6-4, 6-5, when you're a younger goaltender, it might be hard for you to keep your focus. But I've been through enough situations similar to that. I was just trying to keep my focus and when it got 6-5 to do anything possible I could to keep it from getting 6-6."
His counterpart, Tampa Bay's
Dwayne Roloson
, didn't make it past the first two periods. Roloson, who allowed six goals on 27 shots, was yanked in favor or
Mike Smith
.
Lightning
coach Guy Boucher said he's not concerned about Roloson, who allowed a couple goals that one would call "soft."
"He's resilient," Boucher said. "He's somebody that's got tremendous concentration. And you know he always bounces back. So we're not expecting anything less than what he's given us throughout the year. So I'm not worried."
-- A.J. Perez

Photo: Getty Images