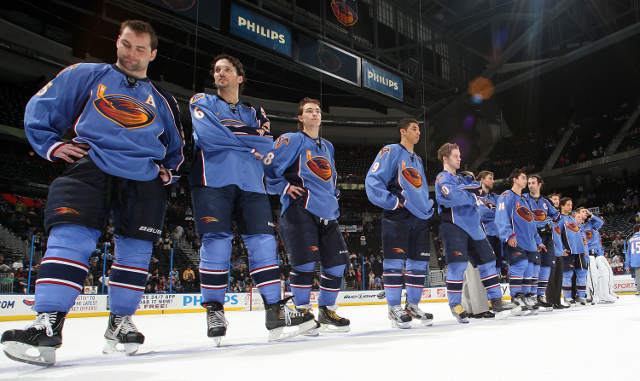 The
Thrashers
aren't headed to Winnipeg -- at least just yet.
Multiple sources told CBSSports.com Thursday night a report that a deal is in place to sell and move Atlanta's NHL franchise to Winnipeg is at best premature. One source with knowledge of the negotiations said talks between Thrashers ownership group, Atlanta Spirit, and Winnipeg's True North Sports and Entertainment have progressed, but not to the point where both sides had an agreement in place.
The Globe and Mail reported
that an agreement had been reached by the two sides Thursday. Winnipeg --- which lost the Jets to Phoenix in 1996 --- would again be home to NHL hockey. The newspaper reported that NHL commissioner Gary Bettman "is expected to travel to Winnipeg to make the news official."
Scott Brown, a spokesman for True North, said in an e-mail that the report "is not accurate."
The Thrashers, however, remain on the block and it doesn't look like a viable ownership group willing to keep the team in Atlanta has emerged. Atlanta Spirit and True North have been in talks for several days and it looks like the Winnipeg group looks to be the frontrunner.
True North had sought to acquire the Phoenix
Coyotes
, but Glendale (Ariz.) officials opted to pay the league as much as $25 million to cover the operating costs for the 2011-12 season. The group's attention then reportedly turned to the Thrashers.
Bettman said in a radio interview
Wednesday that he was "not aware" of any imminent deal to sell the Thrashers.
"There has been so much speculation," Bettman said during the first intermission of Game 2 of the Western Conference finals on TEAM 1040-AM on Wednesday night. "How many people in your line of work were reporting the Coyotes were going to Winnipeg? Where is that coming from? It's made up. It didn't happen. The minute the Coyotes made it clear it clear they're staying, we're on to Atlanta."
On his weekly radio show Thursday night,
The Associated Press
reports Bettman reiterated no deal has been made to move the Thrashers to Winnipeg, saying "I can tell you that with certainty."
-- A.J. Perez

Photo: Getty Images