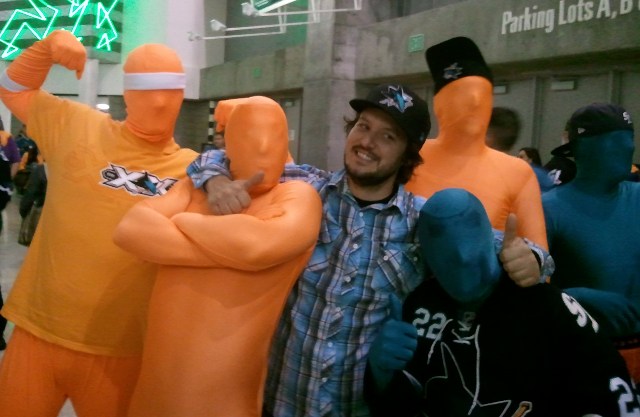 SAN JOSE --- The San Jose
Sharks
have their own dudes clad in spandex next to the penalty box --- and they did the Vancouver 's two Green Men a few better.
There were five --- three in orange and two in tight-fitting teal, although none appeared to be as acrobatic as the Vancouver crew --- and they even had their own PR person from a Silicon Valley company that paid for their seats at Game 3 of the Western Conference finals at HP Pavilion on Friday night. The seats cost at least $350 each, so Barracuda Networks --- a Sharks sponsor --- spent some good money to spoof Vancouver.
"We are just looking to go out there and have some fun," said Mitch Vacation of Saratoga, Calif. (Yes, that's the name he gave and
here's appears to be his Facebook page
.) "We are here to represent the Sharks and everything that has to do with orange and teal. "
Barracuda Networks was behind the promotion that handed every person who walked into the arena orange t-shirts, although only at best half wore them.
Being sponsored has its advantages.
The Green Men said on their Twitter
account that they were unable to make Game 2 because "tix are a little too pricey and Nashville put us in debt." They promised to be back in Game 5.
A
certain fan made up for their absence
in Game 2 by putting on her own display.
Of course, not everybody was pleased with these five.
"You guys are copycats," said one
Canucks
fan in a
Ryan Kesler
jersey. "Why don't you do something original?"
-- A.J. Perez