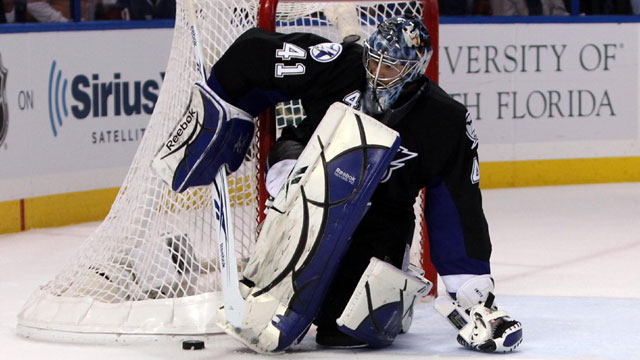 TAMPA, Fla. -- Dwayne Roloson is a large reason why the Lightning are here, playing in the Eastern Conference finals. But backup Mike Smith is a massive reason why the series is tied at two.
After struggling to the tune of three goals surrendered in nine shots, Lightning coach Guy Boucher pulled the graybeard in favor of Smith, who was perfect in relief.
"You can never be surprised [to get put into the game]. You always have to be ready," Smith said. "It was one of those things where every turnover that we had went into the net and it wasn't because Roli didn't play well, stuff like that just happens."
In all, Smith saved each and every one of the 21 shots the Bruins put on him, including a couple of fantastic stops in the third period.
So naturally, the question next is, Who's your starter in Game 5, coach Boucher?
"We have our No. 1 goaltender. He's taken us to this place right now. And that's the reason why we're here."
As for Smith?
"Smitty has been terrific... Whenever he was asked to play since Roloson has been there, he's been terrific. I mean, he's just been terrific."
So to clarify, who's starting Game 5 in Boston?
"We just finished this game now," Boucher said. "We're happy we just beat a terrific team and were a lot harder to play against today. And Smitty was part of it and Roloson is -- it doesn't change the status."
There you have it. Roloson, who received the largest roar of all the Lightning players in the pregame introductions, is, at this point, going to be back in net on Monday.
But the leash could be shorter.
"Whenever it's time for [Smith] to help the team and try to change the momentum around, I don't hesitate," Boucher said.
-- Brian Stubits
-- Photo: Tampa Bay's Mike Smith, courtesy of US Presswire