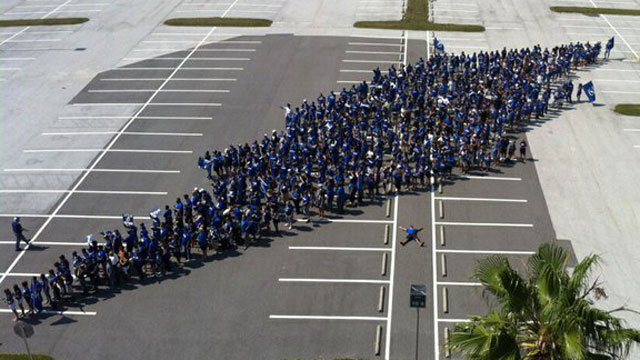 Who says people don't care about hockey in the South?
OK, a lot of people. And it's fair. But the fans in Tampa clearly have been caught up in playoff fever.
Around 800 fans showed up at the Tampa airport on Sunday morning to see the team off as the Lightning head to Boston for Game 5. But they did more than just show up. They made themselves a human lightning bolt.
The St. Pete Times Forum was packed for Game 4 and the fans were "All In" -- the team's playoff marketing slogan -- for the whole game. Even when falling down 3-0 in the first period, the crowd didn't let down much, believing in the Bolts in their eventual comeback. There clearly are passionate hockey fans in Tampa and perhaps an extended run at the contender level can keep the passion burning even when things aren't so great.
The "Be the Bolt" campaign was announced during Game 4 and was organized on Facebook. To see more pictures from the event, you can check out the event page.
-- Brian Stubits
Photo courtesy of Facebook