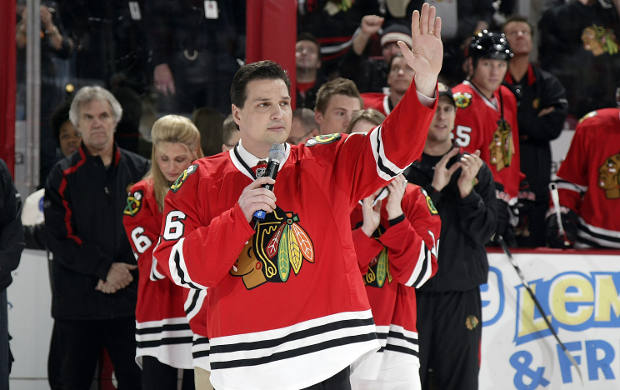 NBC and Versus have seen steady -- sometimes extreme -- ratings improvements in recent Stanley Cup Finals. That was, at least partially, the product of having American teams with massive fanbases -- the Pittsburgh Penguins, Detroit Red Wings, Philadelphia Flyers and Chicago Blackhawks -- involved over the last three Finals. Hockey analyst Ed Olczyk spoke with CBSSports.com's A.J. Perez about whether the trend will continue with a Canadian team in the mix, the future of hockey in Winnipeg and who needs the Cup more: the Vancouver Canucks or the Boston Bruins.
CBSSports.com:
The Montreal
Canadiens
were the last Canadian team to win the Cup in 1993. How big of a deal is it up there in Vancouver?
Olczyk:
Yeah, it's a topic of conversation, but I don't think it's a dominating factor. There is always great pride in it regardless of the market or the country you're playing in. When it hasn't happened for a long time, you need to get a crack at winning -- no matter the Canadian city. Vancouver has that chance to win it and you do hear about it.
CBSSports.com:
While a Canadian team hasn't won a Cup for a while and the Canucks have never won it, Boston fans have waited for title since 1972. Which team winning would be a bigger deal?
Olczyk:
You hit it on the head. Vancouver is looking for their first time. For the Bruins it's been a long, long time. These are two franchises who have had their roller-coaster rides and great expectations over the last little while. So, the impact will be great either way. There's no doubt about it. Either way, it's a win-win for everybody. If you are a die-hard fan of the National Hockey League or even a sports fan in general, you will see a storied franchised in Boston win or Vancouver, who has waited for years to win the Cup.
CBSSports.com:
Following the lockout, the Edmonton
Oilers
(2006) and Ottawa
Senators
(2007) played for the Cup. Then we had Sidney Crosby and the Pittsburgh Penguins, Original Six franchises in the Red Wings and Blackhawks and Philadelphia, another major-market U.S. team with a strong following. How will having a Canadian team back in the mix affect things?
Olczyk:
I get the sense from talking to a lot of people that the excitement of the Stanley Cup Final and the excitement of seeing the greatest trophy in all of sports being presented is there. The impact is always greater in certain markets and certain areas you are going to see a bigger surge. We live in a fast food society, meaning we see it, we want it and we want to try it. Hopefully, we can build momentum with stories and
Stars
. This isn't something that the teams are just playing for in June. This has been a process going on for years when you talk about how these teams are built.
CBSSports.com:
You spent a good part of your career in Winnipeg. What are your thoughts on the NHL returning to Manitoba?
Olczyk:
I was there for almost six years as a player. I have good memories of Winnipeg and the way they treated me and my family. I always felt it was a National Hockey League city. Things have changed. There's a salary cap in place. You have stable ownership with Mark Chipman and David Thompson. There's more of an even playing field in the NHL. I don't like to see any city or town to lose a professional sports team, but at the end of the day it is a business. The new building (in Winnipeg) may not be as big as some would like, but I think the support is there. The question is whether the corporate support will be there for the long-term. They'll have a good base of players, like
Andrew Ladd
who has won a Stanley Cup a couple of times in his young career. Off the ice, I think there will be a lot of good things moving forward. Whether they will be called the Winnipeg Jets or Manitoba Moose, all I know is that I'm one proud alum of the National Hockey League in Winnipeg and I'm happy to see the best league in the world return to a great hockey city.
CBSSports.com:
There's hockey in Toronto, Montreal and Edmonton. Then there's hockey in Vancouver, which doesn't play so well across Canada. Why haven't the Canucks been embraced better in Canada?
Olczyk:
I think it's similar to West Coast teams in the States. There's always that respect factor, but those in Central and Eastern time zones don't see them play as much as you do the other markets. I was in Vancouver for 17 days and they did an incredible job with the Olympics. It was A-plus all the way. That's the way the Canucks are as well. They have great ownership and a great coach in Alain Vigneault. I just think it is that aspect of playing on the West Coast. I don't think there's any way around it. Hockey people respect and know how good Vancouver, San Jose, L.A. and Anaheim are. There's no doubt about that. It just doesn't get the vibe or the push of Toronto or Montreal. Those are Original Six franchises and that's kind of the real world. Is it ever going to change? If you win a couple of Stanley Cups and keep being No. 1 in the National Hockey League, at some point maybe.
Photo: Getty Images