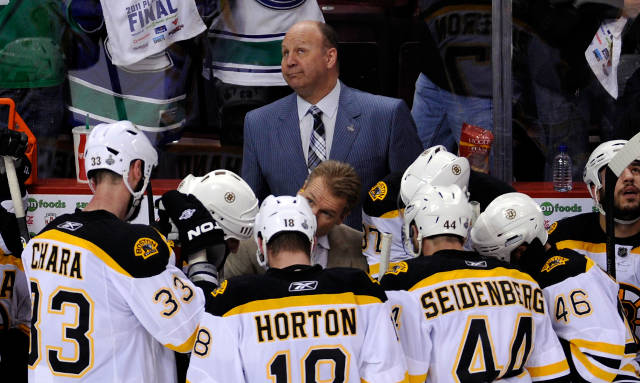 The Boston Bruins were scoreless on their six power-play chances in Game 1 of the Stanley Cup Final against the Canucks, including 1 minute, 32 seconds on the two-man advantage.
Boston did get 12 shots in their eight-plus minutes on the power play. When you're grading on the curve that is the Bruins' lowly play with the extra attacker, you call that progress.
Canucks-Bruins: Game 1
Video
"I think our power play was better tonight than it had been in a while," Bruins coach Claude Julien said. "We spent a lot of time [in Vancouver's zone], we had some shots, had some opportunities [and] had some chances. We didn't score. Obviously, when your power play isn't doing well, people are going to criticize because you didn't score."
The Canucks' best penalty killer in their Game 1 victory at Rogers Arena on Wednesday night stood between the pipes as Roberto Luongo made 36 saves. The game's lone goal, scored by Raffi Torres with 18.5 seconds left in regulation, came on even strength as neither team took advantage of their respective man-advantage situations.
The Canucks also had six power-play chances, spanning 9:31.
"As long as we're able to stay on even terms with them when it comes to special teams, we're OK with that," Julien said.
The Bruins have had to explain away their lackluster power play all postseason. Boston went scoreless in their first 30 trips to the power play in the playoffs and are only 5 for 67 (7.5 percent) overall.
But getting four minutes of uninterrupted power play time after Daniel Sedin took a high-sticking double minor in the first period when the Bruins could have set the tone went for naught. The Bruins also started the second period on the power play after Vancouver's Alex Burrows was tagged with an extra roughing minor for biting Boston's Patrice Bergeron, which became a two-man advantage after Kevin Bieksa was called for a high stick.
Boston -- which again put 6-foot-9 defenseman Zdeno Chara in front of the opposition net -- won most of the faceoffs during the two-man advantage and put four shots on net, but the game remained scoreless.
"That's a very good hockey team over there," Canucks forward Ryan Kesler said. "When they're on the power play, yeah, obviously they don't have that great a percentage, but they're a very good power play and they get a lot of chances. Lou had to make some pretty good saves. After the first couple power plays, we kind of figured out what they were trying to do and we tried to stop it the best we could."
-- A.J. Perez
Photo: Getty Images