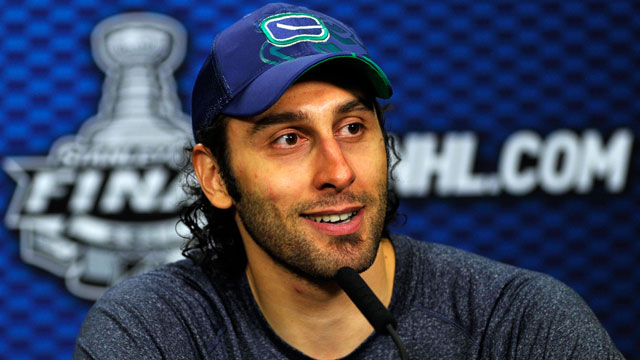 It's not quite the NBA's cough controversy, but it doesn't mean it's not as overblown.
Canucks goaltender Roberto Luongo is facing some criticism for his comments after Game 5 about Maxim Lapierre's goal and a comparison he made between himself and Bruins goalie Tim Thomas.
Luongo was asked how difficult it is to play a shot off the endboard, the way Thomas surrendered the only goal of the game. Here's his response that is drawing a stink.
"It's not hard if you're playing in the paint. It's an easy save for me, but if you're wandering out and aggressive like he does, that's going to happen. He might make some saves that I won't, but in a case like that, we want to take advantage of a bounce like that and make sure we're in a good position to bury those."
The comment drew a somewhat strong reaction from the Bruins on Saturday.

"Yeah I am surprised," Boston captain Zdeno Chara said. "Obviously it's something he said, you would have to talk to him about it. But we all know the qualities Timmy Tim Thomas has. We all know he's one of the best goalies in the league so."

Adds Bruins forward Chris Kelly: "Obviously, he is good goalie, we all know that. It's unfortunate that he is commenting on another good goalie's performance. I don't think Timmy has commented on his style. So obviously Timmy has been unbelievable for us. So you know, we wouldn't be where we are if it wasn't for him so that's really all you can say about that."

A lot of people are taking that first part as a shot against Thomas from Lu. Those that see that are looking too hard for dirt, if you ask me. Luongo admits that because of their respective styles of play, one can make saves more easily than the other and vice versa.
Much has been made in these Finals about Thomas' aggressive approach to the game, especially after he was caught being too aggressive on Alex Burrows' game-winning goal in Game 2. We all know the guy is unconventional, but it's worked out pretty well for him.
Not much to see here.
-- Brian Stubits
Photo: Getty Images