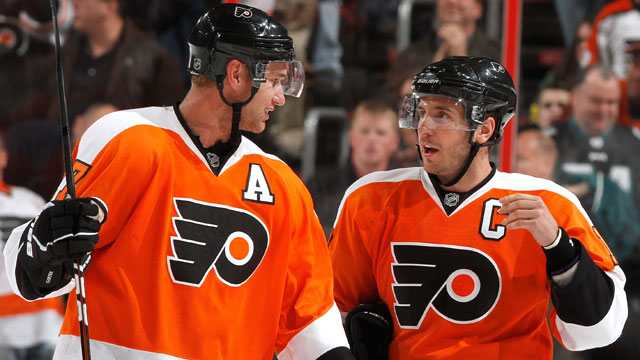 The Philadelphia Flyers afternoon of blockbuster moves has concluded. Maybe.
The Flyers made three massive moves in as many hours on Thursday, signing Ilya Bryzgalov for nine years, $51 million after trading captain Mike Richards to the L.A. Kings for Brayden Schenn and Wayne Simmonds and Jeff Carter to the Blue Jackets.
Before it could sign goaltender Bryzgalov to a new contract, the Flyers had to release some salary. Just nobody expected them to release THIS much salary.
The moves started when Philly sent Carter to the Columbus Blue Jackets for Jake Voracek, the No. 8 pick in Friday's draft and a third-round selection as well.
The Carter deal itself wasn't surprising. A few weeks ago we noted a report that the Flyers had been discussing trading Carter with the Blue Jackets, but the biggest obstacle was Carter's massive contract, both in length (through 2020-21) and in dollar figures ($5.272 million per season). But if they were to sign Bryzgalov, who's rights they obtained from Phoenix earlier this month, they would have to clear space to get under the salary cap.
The Blue Jackets are clearly pleased with landing a scorer like Carter. "The Columbus Blue Jackets are very pleased and excited to acquire Jeff Carter," GM Scott Howson said. "Jeff is a proven number one center in the National Hockey League and we look forward to him having many productive seasons as a Blue Jacket."
Rick Nash in Columbus is the biggest beneficiary, and is understandably excited, telling Aaron Portzline at the Columbus Dispatch "We needed a guy like this. [Opponents] can't just key on one guy. The best teams have two guys. This is a huge help, not just for me but for the whole team." That is a line now that could realistically provide 75-85 goals next season for the Jackets.
It was the second move that came as a surprise and left people wondering what was GM Paul Holmgren's plan. Richards isn't known for being the most captain-like guy in the NHL and has another hefty contract ($5.75 million until 2019-20), but it seemed like the Flyers could sign Bryzgalov in clearing just one player, specifically Carter.
But this was a team that seemed like it was just a goaltender away, so getting rid of two offensive standouts begs the question if they aren't swinging too far in the other direction. Only time will tell, but it sure is hard for me to see the Flyers improved today. They are certainly still a favorite to make it into the playoffs, but did they chances at winning the Stanley Cup go up? I'm not sold the answer is yes.
"I just got home and I was surprised. You wouldn't think that those two guys would be leaving any time soon," Flyers forward Claude Giroux told Frank Saravali of the Philadelphia Daily News. "But I guess it's just part of the business. It's going to be a fresh start for both of those guys. For the rest of us, it's going to be a challenge. We still have a lot of veterans but different young guys are going to need to step up now."
The Kings, however, just got a lot tougher in the already competitive Pacific Division.
"We felt at this stage of the franchise it was time to make a significant move for an impact player," Kings GM Dean Lombardi said. Mike Richards is not only one of the top players in the league, he's also universally recognized as one of the finer leaders in the game and one of its elite competitors. Additionally, given that he's only 26-years-old and he's on a long-term contract, he fits our plan now and for the long-term future."
Bryzgalov will make an average of $5.67 million per season (the presumably front-loaded salary will pay as much as a reported $10 million) over the length of the contract, but at this point it's unsure how much room the Flyers will have under the cap to find some help to fill the offensive void left by Carter and Richards.
Betwen Carter and Richards, the Flyers are losing a combined 59 goals (36 for Carter last season, 23 for Richards) and 73 assists (30, 43 respectively). However, in return they get Voracek (14 goals, 32 assists) from Columbus and then Schenn (young center with just nine career games) and Simmonds (14/16 for the Kings last season).
-- Brian Stubits (A.J. Perez contributed to this report)

For more hockey news, rumors and analysis, follow @cbssportsnhl on Twitter or @BrianStubitsNHL