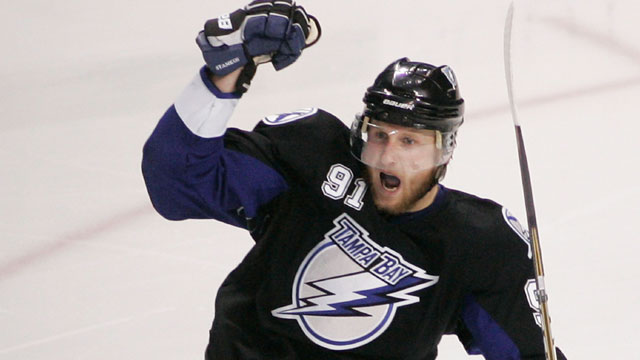 Here we are, just days away from July 1, and Steven Stamkos still doesn't have a contract for next season. Come Friday, he will be a restricted free agent if no extension is reached with the Lightning before then. Stamkos says they're close, but as of yet no deal is done.
So will there be a stampede for Stamkos, a young superstar who has been the NHL's leading goal scorer over the past two seasons? Don't hold your breath.
If Stamkos is still unsigned comed Friday, teams will have the option of extending him an offer sheet, at which point Tampa Bay would have the option to match. And make no mistake, Lightning GM Steve Yzerman will match. He is indicated that there really isn't a level he won't go to to keep his star.
Perhaps you're thinking if a team has a ton of money, why not call Yzerman's bluff, see if he truly means it? If nothing else, you force Tampa Bay to handicap the rest of its roster by committing more than it had afforded to signing Stamkos. Take the Panthers, for example. GM Dale Tallon has to spend $26 million just to reach the salary cap floor, so he has a ton of money to throw around at this point. Couldn't he set out to damage his division rivals by either taking away their best player (and giving the Panthers a star of their own) or hampering Yzerman's efforts to build his roster by offering Stamkos, say $12 million annually?
The answer is of course he could, but it's unlikely he would. Or any other team for that matter. Why? In the hypothetical world where the Lightning don't match and let Stamkos go, they would still get compensation. For Stamkos, the going rate would be four first-round draft picks going back to the Lightning. Stamkos is elite, but that's a heavy, heavy price to pay, in addition to the money committed to paying Stamkos.
So there's a reason why nobody -- except Maple Leafs fans -- has their hopes too high for Stamkos. Then again, you never know what might happen.
Among the other top RFAs this season, both Nashville's Shea Weber and New Jersey's Zach Parise have dates with arbitration after the teams filed, meaning they are off the market while the teams try to negotiate contract extensions. It's hard to imagine either player going as far as arbitration, but if they do, it's even less fathomable the teams would decline to give the player the award. Point being, don't expect to see either guy in a new sweater any time soon, barring trade, of course. These are the types of guys that you imagine will do what they need to do so as not to lose such cornerstones.
Now just because Stamkos seems like a sure bet to remain in Tampa, that doesn't mean other RFAs can't be pried away from their current teams.
Here are the top restricted free agents (in alphabetical order).
Artem Anisimov, Brian Boyle, Ryan Callahan, Brandon Dubinsky -- New York Rangers: The young Rangers all scored at least 18 goals for the Blueshirts last season, led by Dubinsky's team-high 24. The quartet could be described as the future of the franchise.
Drew Doughty -- Los Angeles: The 21-year-old defenseman has already reached All-Star status and is one of the better offensive defensemen in the league already.
Sergei Kostitsyn -- Nashville: The other RFA they have to deal with in Music City, Kostitsyn scored 23 goals and pitched in with 27 assists, having the best shooting percetage in the NHL out of those with at least 25 shots.
Andrew Ladd -- Winnipeg: Ladd was sent to Atlanta from Chicago after the cap-strapped Blackhawks couldn't retain him. In one season for the Thrashers, he had 29 goals, nine on the power play, and 30 assists.
Brad Marchand -- Boston: The rookie really broke out in the playoffs, when he scored 11 goals for the B's on their way to the Stanley Cup, the second most for a rookie in the postseason ever behind only Jeremy Roenick.
Keith Yandle -- Phoenix: A great puck-moving defenseman, he could perhaps be a target of the Bruins in his hometown of Boston. Yandle had 11 goals and a whopping 48 assists for the Coyotes last season.
Others to watch: Zach Bogosian (WPG), Troy Brouwer (WAS), Michael Frolik (CHI), Clarke MacArthur (TOR), Blake Wheeler (WPG), Mike Santorelli (FLA), Blake Comeau (NYI), Teddy Purcell (TB), Semyon Varlamov (WAS)
2011 Restricted Free Agent Compensation
Annual Cap Hit
Compensation
Less than $1,034,250
None
$1,034,250 - $1,567,043
Third-round pick
$1,567,044 - $3,134,088
Second-round pick
$3,134,089 - $4,701,131
First- and third-round picks
$4,701,132 - $6,268,175
First-, second- and third-round picks
$6,268,176 -- $7,835,219
Two first-round picks, second- and third-round picks
More than $7,835,219
Four first-round picks
-- Brian Stubits
Photo: Getty Images

For more hockey news, rumors and analysis, follow @cbssportsnhl on Twitter or @BrianStubitsNHL