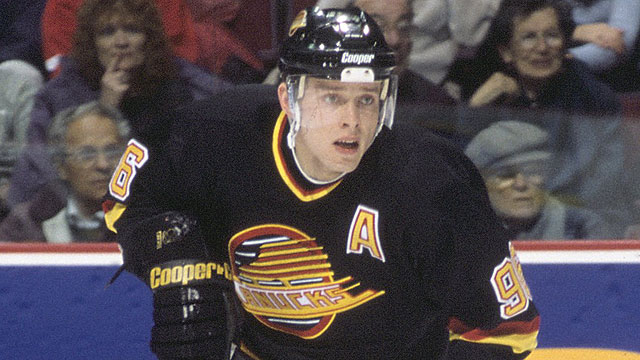 I am not here to besmirch any of the players honored with nominations into the Hockey Hall of Fame. They all earned their places and are deserving. Ed Belfour, Mark Howe, Joe Nieuwendyk and Doug Gilmour constitute a fine class.
So perhaps I'm objecting to the rules of the Hockey Hall of Fame here. Why cap each class at just four players, two builders and two females? It should be based on if the player belongs in the Hall, not if he's one of the four most deserving of being in the Hall.
I'm having a hard time accepting Pavel Bure not having his name called. I understand fully that he didn't have a long career, but the career that he did have was jaw-dropping. He was as dynamic and electric a scorer as the NHL had. Five times Bure scored more than 50 goals in a season; two of those occasions he hit the 60-goal threshold.
In 11 seasons spent with the Canucks, Panthers and Rangers, Bure ended with 437 goals and 342 assists. A six-time All-Star, Bure won the Calder Trophy once and the Maurice Richard twice (would have been three if the award were given in 1993-94).
Valeri Bure, brother of Pavel, clearly doesn't agree with the lack of inclusion, either, tweeting this afternoon the following: "Congrats to the guys that got into Hockey Hall of Fame today. But I think it's a big joke that my brother did not make it again"
From a personality standpoint, Bure might not have been the easiest guy in the NHL to get along with. He had his shortcomings and rough edges. But we're talking hockey skill here, and there haven't been many as good as Bure. He is third all time in goals-per-game average, proof of his ability as a scoring machine.
And if Bure couldn't get in with this year's class, I wouldn't hold my breath for next year, either. Joe Sakic, Mats Sundin, Brendan Shanahan, Jeremy Roenick, Curtis Joseph among others.
I haven't even touched on the builders category, where nobody was elected this year -- the first class with no builder since 1981. Pat Burns is especially mystifying. Most everybody felt he was snubbed last year. The coach whose career was cut short due to illness died last November.
Not that that should have factored in the decision this year, and not that it needed to. Burns' merits were enough, winning the Jack Adams Trophy as the league's best coach three times (each coming in his first year with the Habs, Leafs and B's) with three different teams and then winning a Stanley Cup with a fourth team (the Devils in 2002-03).
Nieuwendyk thinks Burns isn't exactly getting his due. "For me, he's a Hall of Famer in my mind," he said.
Again, this is in no way meant to diminish this year's inductees. I'm just struck by the guys still waiting at the altar.
-- Brian Stubits
Photo: Getty Images
For more hockey news, rumors and analysis, follow @cbssportsnhl on Twitter or @BrianStubitsNHL