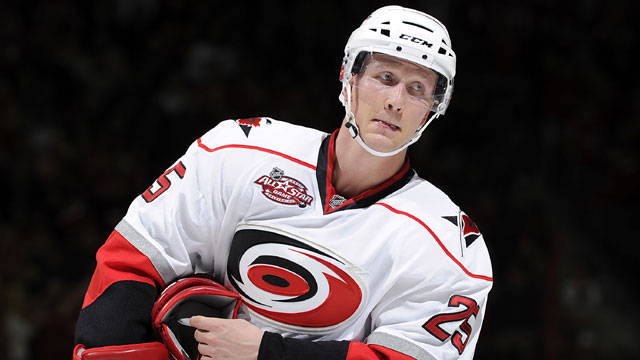 The players are flying off the free-agent market and the season hasn't even begun. You can add Joni Pitkanen to the list.
The Carolina Hurricanes locked up their young defenseman with a three-year contract at $4.5 million annually before he could test the open waters. The 28-year-old has spent the past three seasons in Raleigh with the 'Canes, scoring five goals with 30 assists last season.
"Joni has been a very important part of our defense as he plays in all situations," GM Jim Rutherford said. "He plays a lot of minutes, and is one of the top puck-movers in the league. We are very pleased that he wanted to return to the Hurricanes."
If he were to hit free agency, he was set to be one of the most coveted defensemen available. Instead, a rather bare market becomes even less inviting for the spenders.
"He's a guy that plays a ton of minutes in all situations, is a big, strong guy, and, if you look at the free agent list for defensemen, he was near the top of it," Rutherford said. "We thought he would want to test the market, but he really loves playing here and I really appreciate what he did to make that happen."
Also on Tuesday the Hurricanes re-signed Patrick Dwyer to a two-year deal.
They are the first of many decisions the Hurricanes have to make in the coming weeks. At this time, they have just five forwards under contract at the NHL level. Cory Stillman, Erik Cole, Chad LaRose and Jussi Jokinen are all unrestricted free agents come Friday while Brandon Sutter is on the restricted list.
Rutherford, holding little back, said things aren't going well with LaRose, Cole or Jokinen.
"For Erik and Jussi, this is about money to them," Rutherford said. "I'll use the same quote that I always use this time of year. You have players who say the right thing publicly about wanting to stay, but what they forget to add is, 'Unless I can get more money somewhere else.'
"That may very well be what happens, and in that way I understand their position."
-- Brian Stubits
Photo: Getty Images

For more hockey news, rumors and analysis, follow @cbssportsnhl on Twitter or @BrianStubitsNHL