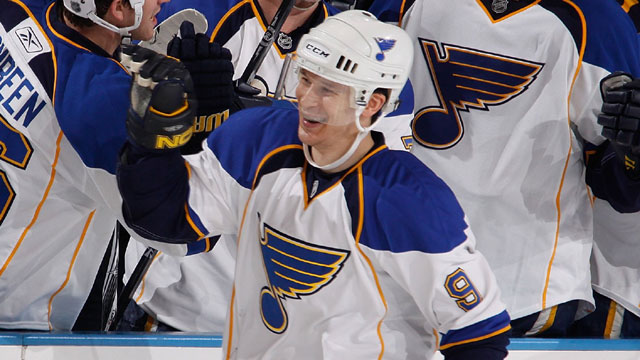 After a season spent entirely on the sidelines because of repeated concussions, Paul Kariya announced his retirement on Wednesday.
The 15-year career of Kariya came to a screeching halt when he began to have serious concussion issues late in his career with the St. Louis Blues. In making his retirement known, Kariya had some terse words about the approach to concussions and head injuries in the NHL given to the Globe and Mail.
"The thing that I worry about," Kariya said in an interview, "is that you'll get a guy who is playing with a concussion, and he gets hit, and he dies at centre ice. Can you imagine what would happen to the league if a guy dies at centre ice?"

Kariya said that if the NHL wants to get serious about reducing the number of concussions in the game, it needs to introduce harsher penalties, in the same way it did to eliminate the bench-clearing brawls that were so prevalent in the 1970s and 1980s, but are completely absent from the game now.

"If you want to get rid of it, I'm a believer that you don't go after the employees, you go after the employers," said Kariya. "The first concussion I had, on a brutal, blindside hit, the guy got a two-game suspension. That was in 1996. The last one, from (the Buffalo Sabres' Patrick) Kaleta, was exactly the same play, and he doesn't get anything.

"If you start at 10-game suspensions and go to 20, that sends a message to the players. But if you start fining the owners and suspending the coach, then it's out of the game."

Kariya went on to say that every hit that ever knocked him out came as a result of an illegal hit.

"Every single one," he reiterated. "I'm not saying you're going to ever eliminate concussions completely because it's a contact sport, but if you get those out of the game, then you eliminate a big part of the problem.

"A two-game suspension? That's not enough of a deterrent."
Kariya, the fourth overall selection by the Mighty Ducks in the 1993 draft, was an electric player early in his career, recording 99 points or more on three occasions, including the 1995-96 season when he had a career-high 50 goals and posted 58 assists. He was named an All-Star seven times in his career, most recently in 2003.
"I would like to thank all those who have been part of so many great memories -- teammates, coaches, team management and staff," Kariya said.
He last played for the Blues in 2009-10, scoring 18 goals with 25 assists in 75 games.
Hopefully what happened to Kariya doesn't become commonplace. He was essentially told by doctors he had to retire as he was just never able to recover from the brain traumas.
-- Brian Stubits
Photo: Getty Images

For more hockey news, rumors and analysis, follow @cbssportsnhl on Twitter or @BrianStubitsNHL