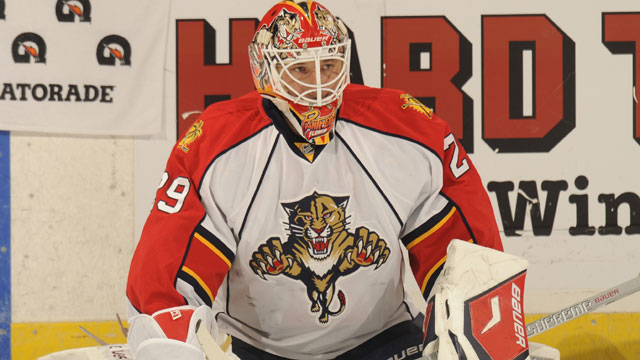 If this were real estate, we'd call it a seller's market and Tomas Vokoun would be the blemished old house down the road that ends up looking like a palace.
That was one of the many things that resulted from the Ilya Bryzgalov-to-Philadelphia story. Vokoun was left as the clear cream of the crop for teams in search of goaltending, which figures to be a short list. Teams like Colorado, and possibly Phoenix and Edmonton will need to address their situations -- as will the Florida Panthers.

Now there is no guarantee that Vokoun will have a new address as Panthers GM Dale Tallon said this weekend at the draft that the team's next priority would be to talk to Vokoun and figure out where both sides stand. But at this point it sure seems like Vokoun won't be coming back to the Panthers as the talks reportedly went nowhere.
Because of his status as the best option available, Vokoun will likely command another high salary, not necessarily because his play warrants it but the market could dictate as such. In the end that will largely depend on how many teams decide to take a gander at the goaltender.
Here are this year's best goaltenders (in alphabetical order).

Brian Boucher -- Flyers: The veteran was much maligned in Philadelphia, but he was serviceable. Last season he played 34 games for the Flyers, going 18-10-4 with a .916 save percentage and 2.42 goals against average. While he doesn't figure to be a starting goaltender for any team, he certainly still has value to a team looking for a solid backup.

Ray Emery -- Ducks: Once upon a time, Emery looked to be a promising up-and-comer in the NHL with the Senators. Since then he struggled, went to the KHL then returned to Philly before finding out he had avascular necrosis which led to the removal of 13 centimeters of his right fibula. But he came back last season for the Ducks, earning a Masterton Trophy nomination, winning seven of his 10 regular-season starts before going 2-3 in the playoffs. Point is, Emery appears able to be a contributor again for a team in net.

Jean-Sebastien Giguere -- Maple Leafs: A long way removed from his Conn Smythe run in 2003, Giguere has spent the last two seasons in Toronto, no longer a starting-quality goaltender. In 33 games for the Leafs in 2010-11, he had an 11-11-4 record with a less-than stellar 2.87 GAA and .900 save percentage. Now 34, Giguere's demand won't be very high but would provide a veteran backup for some team in need.

Vokoun -- Panthers: There are varying opinions about Vokoun, some point to him playing just five playoff games in his career while others note how bad the teams in front of him in both Nashville and Florida have been. His .922 save percentage is proof he can play. Vokoun is streakier than your average goalie, capable of having a month-long run where he is unbeatable followed by a bevy of three-, four-goal games. Teams in the hunt will be those looking for a full-time starter, most likely Colorado.
Others of interest: Mike Smith (TB), Jose Theodore (MIN), Josh Harding (MIN), Johan Hedberg (NJ), Pascal Leclaire (OTT)
By Brian Stubits
Photo: Getty Images
For more hockey news, rumors and analysis, follow @cbssportsnhl and @BrianStubitsNHL on Twitter.