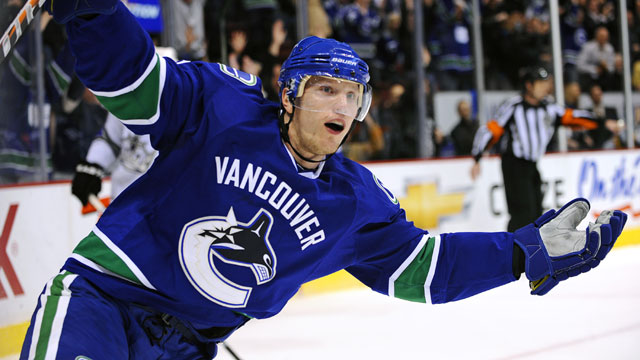 It wasn't long ago that we had a free-agent defensive class that was shaping up with names like Kevin Bieksa, Andrei Markov, Joni Pitkanen and Christian Ehrhoff.
Now all of them are off the market before it even begins. Capped off by the Sabres signing Ehrhoff to a long-term deal, each has signed contracts to stay with their teams (except in Ehrhoff's case since his rights were traded).
As a result we're left with an overall veteran group with mixed-in youngsters.
The hard part is naming a defensive headliner. Is it Ed Jovanovski, the veteran who played most recently in Phoenix? Could it be Roman Hamrlik, a 17-year veteran that still has a few miles left on the tires?
Here are this year's best defensemen (in alphabetical order).

Jonathan Ericsson -- Red Wings: The 6-foot-5 Swede is just 27 and skates well, so he's an intriguing prospect, even if he has been playing mostly as a third-pairing defenseman. At this point there is no deal in place to keep him in Detroit, but that can still be done. If not, though, there will be some suitors intrigued by the big man with very modest offensive numbers (six goals, 15 assists last season). (June 30: Re-signed with Red Wings)

Ehrhoff -- Canucks/Islanders/Sabres: He rejected an offer from the Canucks that was reportedly the exact same as Kevin Bieksa's five-year, $23 million deal and has since been sent to Long Island -- for a few days, at least. Ehrhoff has plenty of offense, scoring 14 goals with 36 assists last season in Vancouver. It's likely the Red Wings will be hot and heavy to sign Ehrhoff to fill Brian Rafalski's void now that talks have broken off with the Islanders. (June 30: Signed with Sabres)

Hamrlik -- Canadiens: At 37, Hamrlik has already declined a one-year offer from the Habs, looking to get something for two or three years. He has taken a lot of heat from the fans in Montreal, but he's still a solid player on the blue line who helped cover for an injured Markov this season. A return to Montreal is still possible, but other teams will a shot, too.

Jovanovski -- Coyotes: He's 34 but can still be a nice addition as a top-two pairing defenseman. The big question is if he can stay healthy. He will surely have a pretty hefty pay cut coming his way after the five-year, $32.5 million contract he signed with the Coyotes, but could be a target for teams like Colorado or Florida looking for experience on the back end.

Tomas Kaberle -- Bruins: He wasn't a great fit in Boston this year, as his time diminished during the playoffs. The big bug-a-boo was not giving much life to the power play, which was a year-long struggle for Boston despite the team's success. The Bruins are still trying to figure out if they want him back, but it looks like the answer will be no. He still can be an offensive contributor, though; he had four goals with 43 assists last season.

Bryan McCabe -- Rangers: Acquired by New York midseason, McCabe's greatest attraction is the offense he provides on power plays. He is coming off a big contract that was big in his falling out with Toronto when the fans didn't feel he was living up to the money. That shouldn't be a problem this time around as he won't get the big bucks.

Wisniewski -- Canadiens/Blue Jackets: He is in the 20-something crowd at 27 and has plenty of offensive potential. After coming over to Montreal from the Islanders, Wisniewski actually put up the most points of any player on this list last season with 51 (10 goals, 41 assists). There are plenty of concerns about him as a defensive player and it looks like the Blue Jackets are going to try and lock him up after acquiring him Wednesday afternoon.
Others of interest: Andy Greene (NJ), Scott Hannan (WAS), Sami Salo (VAN), Brent Sopel (MTL), Steve Montador (BUF)
By Brian Stubits
Photo: Getty Images
For more hockey news, rumors and analysis, follow @cbssportsnhl and @BrianStubitsNHL on Twitter.