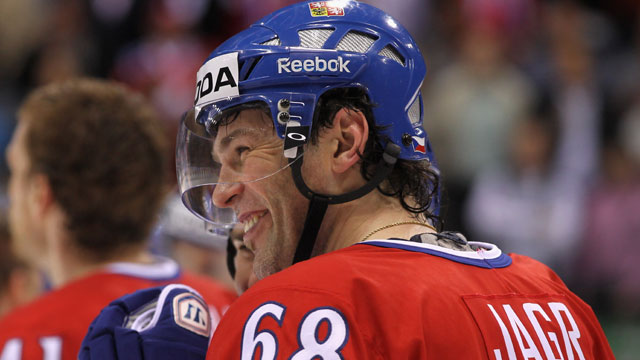 The Philadelphia Flyers have signed Jaromir Jagr, GM Paul Holmgren announced Friday afternoon.
The deal is reported to be for one year at $3.3 million.
So how did the talks start between the sides that didn't seem to have any previous contact? It was something the Flyers sort of stumlbed in to.
"Well, obviously it sort of just started innocently yesterday. I just sent a text to Petr Svoboda, his agent, who also represents Jake Voracek, and I didn't know who was involved," Holmgren said. "I read over the last few days it was just Detroit and Pittsburgh were the teams, so I just sent him a text about if Jaromir would have interest in playing for Philadelphia and it just kind of went from there, and culminated today with our signing of him."
In a shocking turn of events, the Pittsburgh Penguins withdrew their offer to Jagr earlier in the day. To make it even crazier, the Red Wings dropped out, too.
GM Ray Shero had hoped to have an answer from Jagr by now, but things have changed in the last 24 hours. Since Jagr flew to the United States, the list of potential suitors that was believed to be two (Penguins and Red Wings) or maybe three has grown.
"We made what we thought was a very fair contract offer to Jaromir on Tuesday, based on his stated interest of returning to the Penguins," Shero said in a statement. "We made our best offer from the start, given our salary cap structure, in an attempt to facilitate a deal. But now, after several days, with an extended time frame for making a decision, and additional teams getting involved, we have decided to move in a different direction. It was never our intention to get involved in a free agent bidding war, and we have to focus on our team."
The Penguins were believed to be the favorite to sign Jagr and bring him back to the NHL. The 39-year-old spent 11 seasons with the Pens and is near the top of all the franchise's records.
By Brian Stubits
Photo: Getty Images
Click here for more free-agency updates.

For more hockey news, rumors and analysis, follow @cbssportsnhl and @BrianStubitsNHL on Twitter.