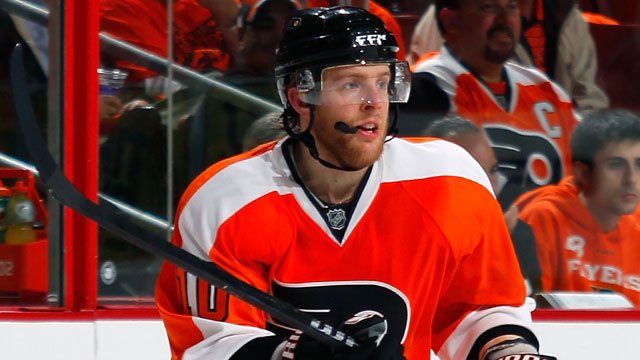 Dale Tallon has been one of the busiest men today, and now he's made another move. The Florida Panthers GM acquired Kris Versteeg from the Philadelphia Flyers for a pair of draft picks down the road.
There had been a lot of talk around the draft last week that the Panthers were trying to get Versteeg from the Flyers. Now, it actually goes through. You might remember that Versteeg played for Tallon while he was in Chicago, making it another former Blackhawk added to the Panthers roster, joining Brian Campbell, Tomas Kopecky and Jack Skille in the past six months.
It stood to reason the Panthers would be busy considering they had to spend more than any team just to reach the salary cap minimum. In the past few weeks they've taken on the the nickname FLOOR-ida. They also made four moves on the free-agent market, signing Scottie Upshall, Jose Theodore, Ed Jovanovski and Marcel Goc to big deals within the first two hours of free agency beginning.
They topped it all off by later signing Tomas Fleischmann to a four-year, $18 million contract. Fleischmann has been battling a blood clot issue but is believed to be over it as long as he continues to take the prescribed medicine. His highest offensive output came two seasons ago with Washington when he scored 23 goals with 28 assists.
But that didn't end the day for the Panthers. Oh no, they still had one more move left in them. In the late evening, the Panthers announced the signing of Sean Bergenheim for four years at an average of $2.75 million. Bergenheim had a breakout performance when he scored nine goals in the playoffs for Tampa Bay, substantially increasing his asking price and the Lightning were no longer willing to meet it. The Panthers hope Bergenheim found himself in the playoffs and he can continue to play up to a level close to that.
Last season Versteeg had 21 goals and 25 assists.
For Philadelphia it adds to another busy day, something that has become the norm for GM Paul Holmgren of late. Earlier in the day he surprised the NHL by signing Jaromir Jagr to a one-year contract then added Maxime Talbot from the Penguins. After those moves he was approaching the salary ceiling, but by sending Versteeg to Florida he opens up just more than $3 million on the cap, according to capgeek.com.
By Brian Stubits
Photo: Getty Images

Click here for more free-agency updates.

For more hockey news, rumors and analysis, follow @cbssportsnhl and @BrianStubitsNHL on Twitter.