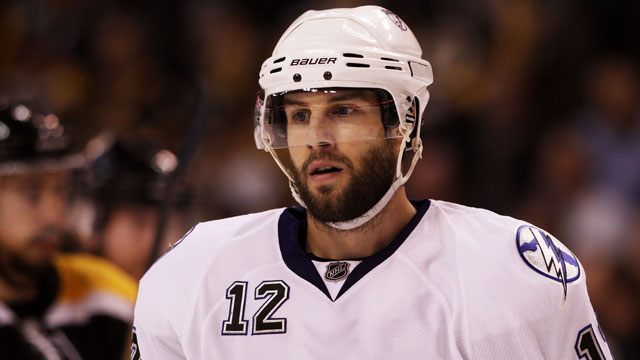 The Los Angeles Kings have reached a deal with Simon Gagne on a two-year contract, the team announced Saturday. Rich Hammond from lakingsinsider.com says the deal is for two years and $7 million.
The Kings were very quiet on Day 1 of free agency, seemingly putting all their eggs into the Brad Richards basket. After they lost out on him to the Rangers, it was on to Plan B.
"I'm very excited about Simon Gagne. I've known him from the time that he came in as a young player. He's a very good player," Kings coach Terry Murray said. "You go back through the Canadian Olympic team and the World Championships, and he was one of the real good players on some of those teams, and certainly a real good player for the Flyers. So I'm excited about this one."
Gagne comes to the Kings from Tampa Bay, where he spent one season. In that year he had 17 goals and 23 assists as the Bolts made it to Game 7 of the Eastern Conference finals. His playoff run was interrupted in the Eastern semifinals against Washington when he suffered a head injury, forcing him out for the four-game sweep. Prior to going to Tampa Bay, he spent 10 seasons with the Flyers, setting a career high in 2005-06 with 47 goals.
It's the first move of free agency for the Kings, who acquired another former Flyer as their biggest move of the offseason so far when they traded for Mike Richards.
So will the reunited Philly guys join forces in L.A. on the same line?
"I will take it into account. It has worked. I've seen it work," Murray said. "There's good chemistry there. They play off each other, read off each other very well. It's just a knack. Those things are called chemistry. You wonder why chemistry works sometimes, and how it works and how it happens and why it happens, but that type of chemistry fell in place when they did play together, and they had good success together. That won't be too far away from my mind when I'm putting down some lines and starting to put things together in my mind for training camp."
The Kings still have to reach a deal with restricted free agent defenseman Drew Doughty, one of the more talented youngsters in hockey.
By Brian Stubits
Photo: Getty Images

Click here for more free-agency updates.

For more hockey news, rumors and analysis, follow @cbssportsnhl and @BrianStubitsNHL on Twitter.