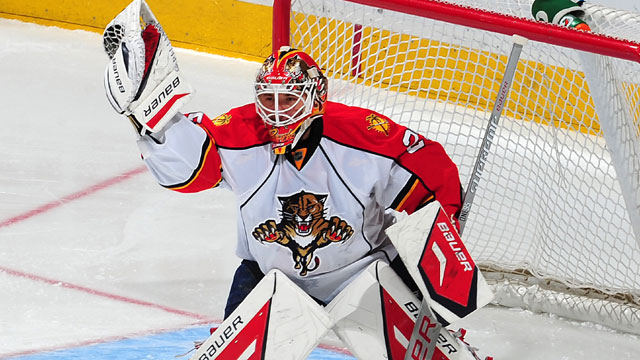 The Washington Capitals have signed Tomas Vokoun to a one-year contract. Scott Burnside of espn.com reports the deal is wort $1.5 million.
Vokoun was the top goalie available on the free-agent market and seemed destined to go to Colorado if he didn't re-sign with the Florida Panthers. When the Cats signed Jose Theodore, it seemed like it was just a matter of time before the Avs signed the veteran goaltender.
Apparently turned off by Vokoun's asking price, the Avs moved on by trading for Semyon Varlamov -- from the Capitals -- and signing Jean-Sebastien Giguere to back him up. That left the question lingering: where would Vokoun sign?
The Capitals had a trio of young goaltenders up until yesterday in Varlamov, Michal Neuvirth and Braden Holtby. When they shipped Varlamov -- who was close to going to the KHL -- most assumed the Caps would go with the duo of Neuvirth and Holtby. Instead, they sign Vokoun -- at a very cheap rate, mind you -- to come in and help the youngsters while trying to help the Capitals advance deeper in the playoffs.
"He's been on teams with no chance to win for a very long time," Vokoun's agent Michael Deutsch said. "The opportunity to compete for a Stanley Cup means a great deal to him."
In his 13 seasons spent between the Panthers, Nashville Predators and one game with the Montreal Canadiens, Vokoun has only appeared in five playoff games. That's partly because of the teams he has had in front of him. Vokoun has continually put up one of the better save percentages in the NHL, last year posting a .922 percentage in Florida.
Signing him at such a low price considering his status as the elite and perhaps even the only full-time starting goaltender available, is no risk for the Caps. For Vokoun, it's a significantly lower salary than I'm sure he expected to command.
By Brian Stubits
Photo: Getty Images

Click here for more free-agency updates.

For more hockey news, rumors and analysis, follow @cbssportsnhl and @BrianStubitsNHL on Twitter.