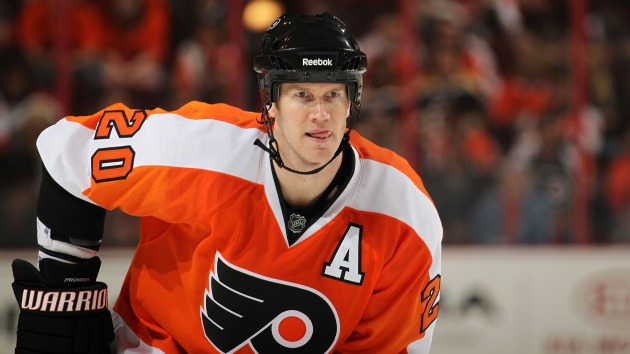 By: Adam Gretz
On Monday we looked
at the seven NHL teams that are still sitting below the NHL's salary floor
and the work they need to do to reach it. But what about the teams that are closing in on the $64.3 million cap? Here's a quick look at the five teams that are closest to it, the amount of cap space they have remaining, the number of players they currently have under contract and the number of restricted free agents they have unsigned.
All salary figures come
via CapGeek
.
Clearly, the Buffalo Sabres have some work to do with only $354,693 in cap space and only 20 players under contract, only one of which is a goaltender. Patrick Lalime is an unrestricted free agent, while
Jhonas Enroth
is one of the club's three restricted free agents. The Sabres have added some large contracts this summer in Christian Ehrhoff, Ville Leino and
Robyn Regehr
, pushing them to the limits of the cap.
After picking up Regehr in a trade with the Calgary Flames, Ehrhoff's negotiating rights were acquired just before the start of the free agent signing period and he was quickly locked up with a 10-year, $40 million deal. On July 1, Leino signed a six-year, $27 million deal. Teams are allowed to exceed the cap during the summer, so the Sabres still have plenty of time to jettison some salary to fill out the remainder of the roster. But who do you sacrifice if you're the Sabres? Perhaps a player like
Shaone Morrisonn
?
Ales Kotalik
?
Jochen Hecht
? If the Sabres want to carry a 23-man roster this season, somebody is going to have to go.
The Washington Capitals have made a series of moves themselves, bringing in Joel Ward,
Troy Brouwer
, Roman Hamrlik and Tomas Vokoun, as well as re-signing Brooks Laich. Last week,
the club shipped
Eric Fehr
and his $2.2 million cap hit to the Winnipeg
Jets
to clear some much-needed cap space as the club still needs to sign its remaining restricted free agent, defenseman
Karl Alzner
.
No team has had a bigger change to the makeup of its roster this summer than the Philadelphia Flyers, and while they traded two lengthy contracts (
Jeff Carter
and
Mike Richards
... arguably their best players) they still have some potential long-term problems, none of which could be bigger in the future than the one belonging to defenseman
Chris Pronger
. He is still signed for another six years, and at the age of 36, isn't getting any younger on the blue line.
After they traded Carter and Richards and allowed Leino to hit the free agent market, the Flyers replaced them with
Ilya Bryzgalov
, Jaromir Jagr, Max Talbot and the players acquired in the two trades (
Wayne Simmonds
,
Jakub Voracek
and
Brayden Schenn
). They have no remaining restricted free agents.
The Penguins, it seems, have become the greatest example for teams with salary cap constraints due to the amount of money they have invested in Sidney Crosby and Evgeni Malkin. (Both players have average annual salaries of $8.7 million.) As I've written in the past, this isn't quite as big a concern as it's often made out to be
because their money is invested in elite, All-Star level players
. Many of the top teams (Detroit, Vancouver, Chicago, Washington, San Jose ... pretty much any of the Stanley Cup contenders) that are pressed against the cap every year have close to (or more than)
50 percent of their cap space tied up in just five players
. The Penguins are no different.
On Tuesday the team signed
Dustin Jeffrey
, their only remaining restricted free agent,
to a two-year contract
.
Finaly, we have the Flames. In late June they completed the previously mentioned trade with Buffalo involving Regehr to shed some salary. They followed that up by bringing back veteran forward
Alex Tanguay
, signing him to a five-year contract. Their remaining restricted free agent is defenseman
Brendan Mikkelson
. With 22 players under contract and still over $3 million in cap space, they should be in solid shape regarding the cap.
Photo: Getty Images
For more hockey news, rumors and analysis, follow @cbssportsnhl and @agretz on Twitter.