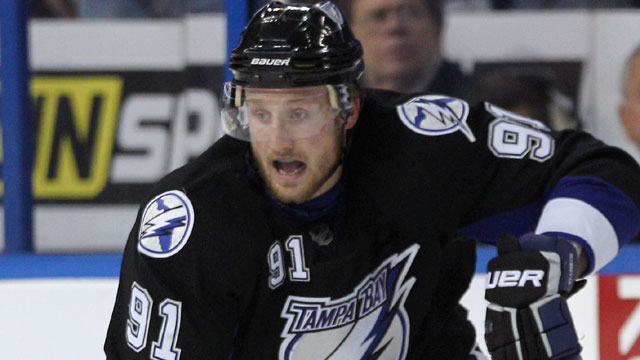 The Tampa Bay Lightning have reached an agreement with superstar center Steven Stamkos on a five-year contract. The team made the announcement on Tuesday afternoon.
"Very exciting day for my family and I," Stamkos said on his Twitter account. "Can't thank Mr. Vinik, Mr. Yzerman and the rest of the organization for making this deal possible. Also want to thank my family, friends, agents, teammates, and fans for all their love and support!"
According to Craig Custance of the Sporting News the deal will pay Stamkos an average annual salary of $7.5 million per season, which comes out to a total of $37.5 million. He'll be eligible for unrestricted free agency when the contract expires after the 2015-16 season.
Said general manager Steve Yzerman in a statement released by the team, "Steven is extremely important to this franchise and is part of the foundation of our hockey team. We are very pleased to have him signed and look forward to seeing him in a Lightning uniform for years to come."
It brings an end to a long saga that had plenty of twists and turns, most made out of fear since it took so long for a deal to be reached. Although the Flyers did contemplate sending an offer sheet Stamkos' way before ultimately passing.
Of course in Stamkos, the former No. 1 overall draft pick, the Lightning are holding on to the league's top goal-scorer over the past two seasons as the 21-year-old has tallied 96 goals in that time frame. He represents not only the future of the Lightning, but perhaps the NHL. Remember, he was recently bestowed the honor of having his mug grace the cover of the video game NHL '12.
The Lightning were determined to get a deal reached with Stamkos, and Stevie Y never waivered on that, saying his team would match any offer sheet if one did come. Alas, it didn't come to that, instead reaching a deal that seems very fair to the team and Stamkos.
He will receive $8 million in the first four years of the contract and then $5 million in the final season. At that point, under the current CBA at least, he will be free to test to the free-agent waters unrestricted at the ripe age of 26, when he figures to be in the prime of his career. If no extension is signed before that point with Tampa Bay, can you imagine the frenzy for him? It would put the Brad Richards courtship to shame.
Photo: Getty Images
For more hockey news, rumors and analysis, follow @cbssportsnhl and @BrianStubitsNHL on Twitter.