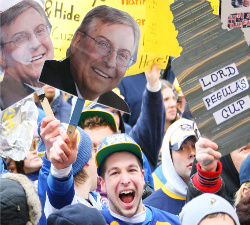 By: Adam Gretz
Buffalo
Sabres
fans are more than a little pumped up about their team's new owner, Terry Pegula, and it's already showing at the box office. Even more than usual.
The Sabres announced on Wednesday that the team
reached a franchise record renewal rate of 99 percent for 2011-12 season tickets
, and because of that, capped season ticket sales at 15,200. HSBC Arena, the home of the Sabres, has a capacity of 18,690 for hockey.
Pegula, a billionaire businessman and long-time Sabres fan, purchased the team back in February, almost immediately sending a burst of excitement through the entire fan base. That excitement has carried over to the offseason where Buffalo has been one of the most active teams this summer, spending millions on players.
Prior to the start of free agency the team acquired defenseman Robyn Regeher from the Calgary
Flames
, and then followed that up by signing Christian Ehrhoff and Ville Leino. Ehrhoff's deal is structured in a way that makes him one of the highest paid players in the NHL this upcoming season.
The Sabres have always been a hot ticket in Buffalo, routinely playing to near capacity crowds. But a 99 percent renewal rate? That's mighty impressive, and it's not hard to understand. They have a new owner that's one of them (Pegula
was reportedly a season ticket holder for the Sabres prior to purchasing the team
) and is spending big money in an effort to put the best possible team on the ice, even if some of the signings -- like the ones to Leino and Ehrhoff -- carry a bit of a risk.
For more hockey news, rumors and analysis, follow @cbssportsnhl and @agretz on Twitter.