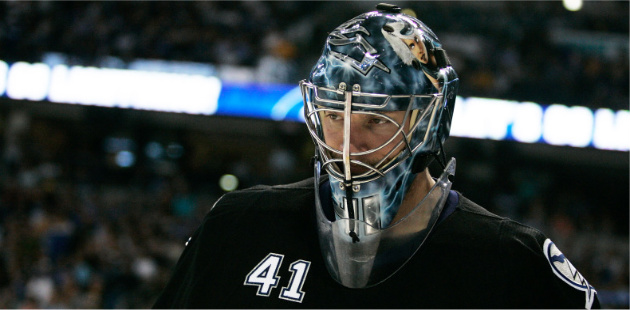 By: Adam Gretz
The Phoenix
Coyotes
signed free agent goaltender Mike Smith to a two-year contract on the first day of free agency and will give him an opportunity to fill the void left by the trade of
Ilya Bryzgalov
to the Philadelphia
Flyers
. Those aren't small shoes to fill, as Bryzgalov was a large part of the Coyotes' success over the past two seasons.
Smith, however, is confident he can do his part and is optimistic about his opportunity having past experience with coach Dave Tippett when they were both in Dallas. Goaltenders tend to perform well in Tippett's system, and Smith is excited about the chance to once again play for him. He's also looking forward to getting a chance to work goaltender coach Sean Burke, who experienced some of the same career struggles as Smith when it came to finding a starting job.
I had a chance to spend a few minutes on the phone with the 29-year-old goaltender on Thursday night, and we discussed his decision to sign with Phoenix, his first experiences as an unrestricted free agent, favorable systems for goaltenders and our least favorite rule in the NHL.
Adam Gretz:
Obviously, Mike, you have a bit of a history with Dave Tippett, your new head coach, having played for him when you both were in Dallas a few years ago. How much of that played into your decision to join the Coyotes, and how much of it was the opportunity to compete for a No. 1 job?
Mike Smith:
I think the main thing was the opportunity. Saying that, knowing Tip very well from my time in Dallas, I have a lot of respect for him and like the way he coaches. Obviously, it's a defensive style and he plays a very tight system, which is very intriguing for a goaltender. I have a lot of respect for him as a person, too. Obviously, the opportunity was No. 1, but it wasn't a hard decision knowing Tip was going to be there, and having a guy like Sean Burke was a pretty big thing, too.
Gretz:
You mentioned the system he plays, and that's actually something I wanted to bring up. We always talk about certain systems that are favorable to goalies, and I admit, I do this as much as anybody having never actually played the position myself. But can you give us an idea as to how much that really does help a goaltender? I mean, if you're facing 40 shots from the perimeter, I would imagine that's not as much of a grind as having to stop 20 shots from right in front of the net. But at the end of the day you still have to make the saves, regardless of how many there are or where they're coming from.
Smith:
Like you said, you have to make the saves when you're called upon to make the saves; that's you're job and that's what it comes down to. There are systems that are favorable to goalies because you're going to get more shots from the outside. There's not going to be as many scoring chances from the great scoring chance areas in the middle of the ice. For me, with my size and my ability, if I feel like I can get a lot of shots from the outside, I'm going to do my best and have a good opportunity to make those saves. Goaltending is simply a position where, if you have mistakes in front of you, you're called upon to make saves. That's just part of being a goaltender in the National Hockey League.
Gretz:
How much do you know about your new goaltending coach, Sean Burke? I've heard a lot of good things about him. I spoke to
Adrian Aucoin
last year, for example, and he raved about how much Burke helped Bryzgalov's career go to another level, and you're arriving in Phoenix around the same age and around the same point in your career as Bryzgalov did.
Smith:
I don't know a whole lot about him at this point, but what I do know is that from talking to him, I know a little bit about how he's gone through the same type of things I've been through in my career. That's big, having a goalie coach that's been through similar situations. He kind of bounced around early in his career, and then ended up finding his way toward the end of his career and ended up being an outstanding goaltender for a lot of years.
I think he feels he can help me in that way, because, well, he's been there and done that. I think he has a lot of knowledge that I may not know about yet, and I'm really excited about learning from him and getting better. Just from talking to him, it excites me a lot and I'm looking forward to meeting him and getting to work with him.
Gretz:
It seems like the free agent market has been kind of rough for goalies in recent years, simply because there are so few openings around the league right now, especially this offseason. For one, it's not like a team carries four or five left wings or seven defensemen; there are only two goalies on the roster and only one plays in a given game (usually, unless it's a bad night for somebody). Did you have any issues finding interested teams or finding an open spot?
Smith:
I know there were a few teams interested. I'm not exactly sure which ones, but talking with my agent and going to free agency we knew we might have an opportunity to get a chance to play. It's definitely exciting that Phoenix is giving me that chance, and getting a chance to reunite with Tip and work with Sean is very exciting. It was a stressful time, obviously, and it happened pretty quick after free agency started. But the first hour or so was pretty nerve-wracking and stressful, just not knowing where you're going to be.
Obviously, it was a different situation for me this year having never been an unrestricted free agent before. Having to go through that was a different experience, but I'm very excited to be a part of the Phoenix Coyotes.
Gretz:
I'm sure you've been asked this more than once since you've joined the Coyotes, but is there any extra pressure for you having to go in and replace a pretty productive player in Bryzgalov? Or do you just go in and say, forget all of that, I'm Mike Smith, I'm going to play my game and be who I am because that's why they signed me?
Smith:
Yeah, absolutely. You can never look at it like that because there's always been great goaltenders on every team that you play for, so they're always going to make comparisons. The main thing is I know I'm capable of playing really well. I know 'Bryz' did some outstanding things in Phoenix and has had a great career so far and will probably continue to do so in Philly, but I'm not going there with the expectation of surpassing him.
I'm just going to go there and take it one game at a time, play up to my capability, and if I do that, good things are going to happen for me.
Gretz:
You've always been regarded as a pretty good puck-handler, so I wanted to get your opinion on this as a goalie because it is, quite possibly, my least favorite rule in the NHL. The trapezoid rule. Hockey is game of flow, and I'm simply not a fan of limiting the movements of one of the players on the ice. Thoughts?
Smith:
Absolutely. I feel that I've worked on this skill that I've gained throughout my whole career, and they're limiting that and taking it away from a goaltender that's able to do it. I compare it to a defenseman that's a good puck-rusher and scores a lot of points. It would be like saying a defenseman can't go below the hashmarks to score or get the puck. That's how I look at it. They're never going to do that because it would limit scoring chances.
I feel like it can actually help to put more scoring chances in the game and keep the game flowing more. There's times where you can go and stop the puck and move it. So, no, I don't like the rule, personally. I don't think the rule really does all that much because if you're a good puck-mover you're going to find a way to go out there and get the puck anyway.
Gretz:
Finally, you're going to a team that has the NHL's most well-known Tweeter in
Paul Bissonnette
. Can we find you on Twitter or any other social media site?
Smith:
(Laughs) No, no. Not yet. Talking to people in the media world, they've said I would be really good at something like that, but I haven't ventured that way yet, and I don't plan to in the near future. But you never know down the road. It might end up being something I get into. But as of right now, I'm not.
Photo: Getty Images
For more hockey news, rumors and analysis, follow @cbssportsnhl and @agretz on Twitter.