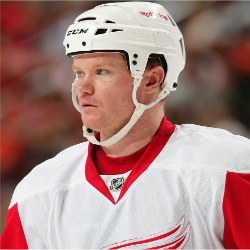 By: Adam Gretz
The
Penguins
signed Jason Williams to a one-year, two-way contract on Tuesday afternoon worth $600,000 if he makes the NHL roster. It's not exactly a move that's going to send shockwaves through the NHL, but it could prove to be a good fit for the 10-year veteran as well as the Penguins.
Throughout his career -- which he's spent bouncing between Detroit, Chicago, Atlanta, Columbus and Dallas -- Williams has been a solid power play specialist that can chip in some points on the man-advantage. Of the 93 goals he's scored in his career, 32 have come on the power play, while nearly 40 percent of his total points over the past six seasons have come while playing playing with the man-advantage.
And that has to make him at least somewhat attractive to the Penguins, assuming he can earn a spot on the NHL roster.
Despite an impressive talent level, and what should be a strong power play unit on paper, the Penguins have been a below average team on the power play for about three years now. Going back to the 2008-09 season their power play has finished 20th ('08-09), 19th ('09-10) and 25th ('10-11) in the NHL, and is coming off of a disastrous performance in last season's opening round playoff loss to Tampa Bay, where the Penguins converted on just one of their 35 power play opportunities.
Because the Penguins have so much invested in their core players, particularly their top-three centers
Sidney Crosby
,
Evgeni Malkin
and
Jordan Staal
, they don't have the luxury of adding high-profile wingers in free agency or through trades. Instead, they're forced to search for veterans that can come at a bargain price to fill in around their big three. Perhaps Williams can be one of those players that gives them the potential for a small boost in one area -- like the power play -- even if his game has other flaws.
Earlier this offseason the Penguins signed
Steve Sullivan
to a one-year deal worth $1.5 million. He's also been a productive player on the power play during his career, even though he's been limited by injuries in recent years.
Photo: Getty Images
For more hockey news, rumors and analysis, follow @cbssportsnhl and @agretz on Twitter.