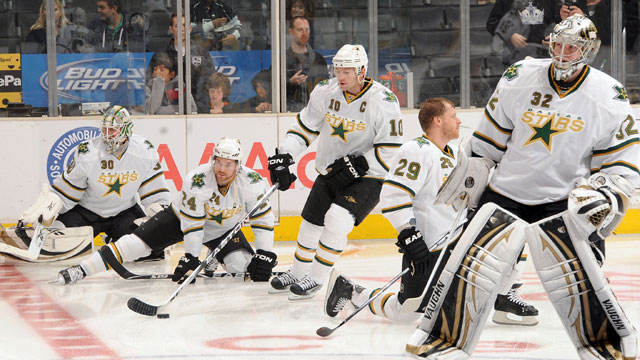 The Dallas Stars are a step closer to finally solvoing their ownership issues.
Prospective owner and longtime front-runner to buy the team Tom Gaglardi, a Vancouver businessmann, pushed his paperwork to buy the franchise to the NHL. It's a small step in a complicated purchase, but a step nonetheless. There are still other groups that have indicated interest, including one with Dallas Mavericks owner Mark Cuban.
Tom Heika of the Dallas Morning News explains the hurdles that still have to be cleared and why the process is far from over.
Because so many people have become entangled in the process, the details of the offer that Gaglardi has put forward must now go through lawyers for other lenders, as well as through lawyers for the NHL.

With more than 40 lenders who have a legal rights to the Stars, one of the key contentions of the sale will be who gets paid what. While there has been jockeying for position about who gets paid what percentage, there also has been a lot of talk about who gets paid first. The sale price is not expected to cover the debt, so some lenders will not get paid back.

"In a traditional sale, you have a seller who is trying to negotiate with a buyer, and you have traditional sale practices. But this isn't a traditional sale," said one source. "You have a group of sellers who have different opinions, and that really means you don't have a seller, per se. Into that vacuum has stepped a lot of lawyers, and that has made the process very complicated."

The fact that Gaglardi feels he has put a viable offer on the table has to be seen as good news, the source said. The Vancouver businessman was granted a 30-day exclusive negotiating window in April, but pushed past that window in May and into July. However, he stayed with the process and, once it gets through the lawyers, his offer should form the "stalking horse" bid that will be taken into a pre-packaged bankruptcy hearing -- possibly as early as August.

The stalking horse bid is important, because if a signed purchase agreement is presented in court, the team will eventually be sold. Either, Gaglardi would get the team at the price named, or another bidder could come in and bid over the Gaglardi bid. If another group bids more than Gaglardi, he has the option to bid up the auction or walk away and receive a break-up fee.
The Stars have become a mess since former owner Tom Hicks struggled with his finances, affecting all of his teams, not just the Stars. The unstable ownership situation helped Brad Richards decide to leave Dallas. It's something they would like to have resolved sooner rather than later, and the expectation is that when the first paychecks go out for the season, it will come from the new owner.
Photo: Getty Images
For more hockey news, rumors and analysis, follow @cbssportsnhl and @BrianStubitsNHL on Twitter.