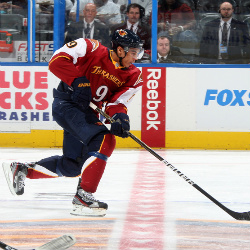 By: Adam Gretz
If the NHL salary cap has done anything during its existence it's forced teams to identify a core of players to build around. With a limit on spending teams aren't going to be able to keep every single player they want, or build a completely well-rounded team without flaws. Eventually tough decisions will have to be made on who to keep and who to let go.
In the cap era teams that make deep runs into the postseason have been pretty consistent with the structure of having nearly 50 percent of their league-allotted cap space tied up in a core of just five players. But in recent years, specifically the past two, the salary cap has increased rather significantly, all the way to the point where the salary floor for the 2011-12 season is higher than the actual cap was back in 2005-06.
Will that change the structure of teams from having a core of just five players, to perhaps a core of six or seven?
Let's take a look at last year's 16 playoff teams and how their top-five salaries fit under the 2011-12 cap of $64.3 million…
Playoff Teams Top-Five Salary Cap Commitments For 2011-12
Team
Top-Five Salary Cap Hits
Percentage of Salary Cap
Washington Capitals
$32.6 million
51%
Pittsburgh Penguins
$31.4 million
49%
San Jose Sharks
$29.5 million
46%
Chicago Blackhawks
$29.4 million
46%
New York Rangers
$29.3 million
46%
Tampa Bay Lightning
$29.1 million
45%
Montreal Canadiens
$29 million
45%
Philadelphia Flyers
$27.5 million
43%
Buffalo Sabres
$27.1 million
42%
Vancouver Canucks
$27.1 million
42%
Detroit Red Wings
$26.5 million
41%
Anaheim Ducks
$25.2 million
39%
Boston Bruins
$24.9 million
39%
Los Angeles Kings*
$24.6 million
38%
Phoenix Coyotes
$20.7 million
32%
Nashville Predators*
$20.1 million
31%
*Nashville's number will surely increase once Shea Weber's contract is settled this week
,
and the same thing goes for Los Angeles whenever Drew Doughty signs a new contract.
I spoke with one NHL executive a couple of weeks ago on the subject and he agreed that most teams, if not every team, see the current NHL structure as having to invest a significant portion of their resources into a core group of players, but that there are still several key factors that go into the roster construction.
For one, you have to have the players worthy of that sort of investment. Throwing large money at mediocrity isn't going to win anything.
The other factor at work is that some of these teams, like Phoenix and Nashville for example, aren't concerned with the league-wide cap and are instead working against their own financial restrictions, which can put them at a sizable disadvantage, not all that different from the ones these teams faced prior to the salary caps existence. The Predators, who are set to go to arbitration with one of their best players, Shea Weber, on Tuesday, have an easily identifiable core of Weber,
Ryan Suter
and
Pekka Rinne
. There's already been concern about their ability to keep them together for the long haul. So even with the cap there's still teams that struggle to keep their home-grown
Stars
.
But for the teams that have the funds at their disposal, the latest cap increase has made it easier to not only keep their best, core players under contract, but to also increase that "core" (at least until -- or if -- the cap goes down at some point) and potentially keep even more players that they may have otherwise had to part ways with in recent years due to cap restrictions.
Look at it this way: Last season the top-four playoff seeds in each conference (including both Stanley Cup final teams) had at least 50 percent of the $59.4 million cap invested in just five players, while four of them had as much as 55 percent invested in their top-five cap hits. As you can see in the table above, only
one
team at this point in the offseason -- Washington -- hits that mark, which is an example as to how much the cap has increased, and how much additional room the deep pocketed teams with talent have to work with.
All salary cap figures via CapGeekPhoto: Getty Images
For more hockey news, rumors and analysis, follow @cbssportsnhl and @agretz on Twitter.