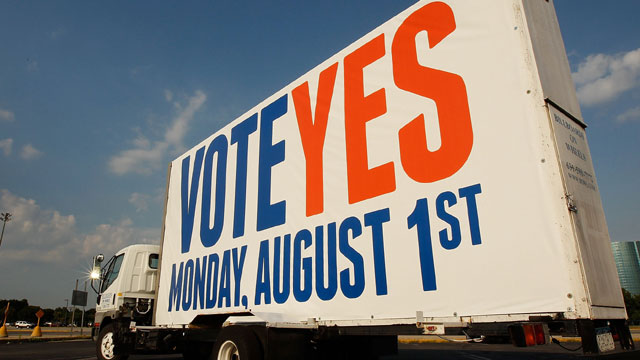 'Tis a sad, sad day not only on Long Island, but in the NHL. With the vote on a new arena for the Islanders being shot down by the people of Nassau County, it seems to be a lock that the team will be looking for greener pastures after 2015 when the lease with Nassau Coliseum runs out.
"I have to tell you I'm disappointed and to put it bluntly, I'm heartbroken," owner Charles Wang said after the votes came in.
We aren't here to rub salt in the wound for the Islanders fans. Losing a franchise is in no way a fun experience and no reason to delight. It can feel like losing a family pet to the die-hard fans. We aren't at that stage yet, and it's still very possible the Isles won't venture too far. The possibilities of playing somewhere else on Long Island certainly exist, let alone staying in Nassau County. But it's also a possibility they desert the Island.
If the team were to move, the first question that would have to be answered is who, exactly, would own the team? Once upon a time, Wang admitted regret to buying the franchise, saying he wouldn't do it again. This could be his chance to sell if he so chooses.
At this point, though, Wang is staying mum about the future of the team, instead saying he wants to focus on next season. That doesn't do much to calm the worries of fearful fans.
Whether he sells or not, though, the team almost certainly won't be playing in Nassau Coliseum after 2015. That much Wang has made pretty clear. But who knows? At this point, there's a long way to go. His tough-line stance certainly could have been a ploy to increase the sense of urgency on the matter. I doubt it, but then again I doubt that the Islanders are content to sit around for four more years, listening to relocation chatter, either.
If they do move -- still a pretty big if -- here's a look at the potential homes.
Brooklyn: Yes, the team might not actually leave the tri-state area. Early this year, it was reported that Nelson Peltz had interest in buying the team and moving it to Brooklyn, to share the not-yet open arena that will serve as the new home of the NBA's Nets. Whether or not Wang sells the team to Peltz (how about Nets owner and Russian billionaire Mikhail Prokhorov?) or keeps it for himself, the borough could be a potential landing spot that keeps everything mostly in tact. It becomes a little bit further of a commute for the majority of the fan base that lives on Long Island, but it beats seeing the team move more than an hour away. Aside from a passing vote tonight or another county on Long Island stepping up to build an arena, this would be the next best solution.
Quebec City: Ever since losing the Nordiques to Colorado in 1996, the fans in Quebec have been dying to see the NHL return, much the same as the fans in Winnipeg. Just check out the wonderful simplicity of makeit8.ca. Of the out-of-state options, Quebec seems to be in the best shape considering it has a potential owner in Pierre Karl Peladeau, the chairman of media giant Quebecor. The kicker is that, while Quebec City doesn't have an arena right now to hot a team, it plans to by2015, which would work perfectly with a potential Islanders move.
Kansas City: Sure, there is an arena available (the still new Sprint Center doesn't have a primary tenant), but who would own the team if Wang looks to sell? That's the golden question. The fear is growing in Kansas City that it built a new arena on the belief it could land either an NHL or NBA franchise but won't get either. It could soon become a reality.
Houston: There isn't tremendous appeal to Houston other than it being a massive market. But it's a city that continues to get mentioned on the back end of the lists for relocation, mainly because of the market size and that it has an arena. But the hurdles (non-traditional hockey market, no prospective owner) are tough to clear under the assumption that the team would be sold.
Seattle: It doesn't have a clear owner (although a group expressed interest to the league) and it doesn't have a suitable arena. After watching the NBA's SuperSonics fly the coop because of a refusal to publicly build an arena, you wouldn't think there would enough support before a team is even in town to build a new arena. At this moment in time, a very long shot.
Milwaukee: I'll just continue to ask why this city never gets more consideration. It's a good state for hockey and a team could share the Bradley Center with the NBA's Bucks. The Kohl family could probably afford it no problem.
Hamilton: We have to throw it on the list because, quite frankly, the number of markets is drying up fast for the NHL to move in to. You have to wonder if Gary Bettman and the Maple Leafs would be OK with another team in southern Ontario when faced with a possible alternative of contraction. No commissioner wants to have that on their resume. But we know there is an owner who would want it (Jim Balsillie) and who has shown a willingness to build a new arena.
Long Island: Pick the county, any county. The leg work would have to begin now, but it would in the end be great to see the team stay (mostly) put.
Photo: Getty Images
For more hockey news, rumors and analysis, follow @cbssportsnhl and @BrianStubitsNHL on Twitter.