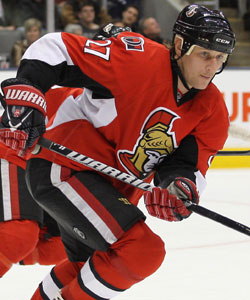 One of the best parts about breakups in professional sports is the possibility of parting shots. Now that Alexei Kovalev has left not only the Ottawa Senators (he did that at the trade deadline when he was shipped to the Penguins) but the NHL, he's letting his feelings be known on one of his old stomping grounds.
After signing a two-year contract with Atlant of the KHL (where he will join Nikolay Zherdev), Kovalev said he did have offers from two teams in the NHL, but he was hoping to find a contract beyond one season, which he received in the KHL.
But first, the not-so-fond farewells to those around the Sens (stick tap to Puck Daddy for translation).
"In two seasons I still couldn't understand the ideas of our coach Cory Clouston," Kovalev said.
I guess the good news for Ottawa fans is that the team has a new coach to clearly direct the team. And give the NHL one ridiculously awesome mustache. George Parros, you have company.
Perhaps he saved his most scathing shots for those in the Ottawa media.
"And the fact I am criticized ... There are different journalists. My opinion of Ottawa journalists is that they don't watch hockey at all. When they fly with the team and go through the [metal detector] at an airport, their bags are filled with beer. You realize right away what these people do when they write about the NHL." (Note to self: Ask boss for relocation to Ottawa.)
"I am annoyed when people write [nonsense]. Figuratively speaking, to earn half a hundred dollars they are ready to make up some garbage. But they show that they're doing their job."
Gee, Alexei, how do you really feel?
But we might not have seen the last of Kovalev in North America. He says he would still like to finish his career in the NHL since that's where he began. Count me among those who would like to see that and would be glued to his return to Ottawa.
Photo: US Presswire
For more hockey news, rumors and analysis, follow @cbssportsnhl and @BrianStubitsNHL on Twitter.