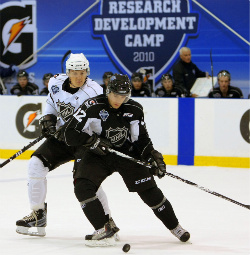 By: Adam Gretz
The NHL will be holding its Research, Development and Orientation camp in Ontario next week, an event that helps the league test potential rule changes. They will be using 30 prospects, as well as head coaches Dan Bylsma (Pittsburgh) and Dave Tippett (Phoenix) to test the potential changes, ranging from no-touch icing, hybrid icing and no line changes for a team guilty of being offside, among many, many others.
Dan Rosen at NHL.com
has a complete rundown of everything that will be tested
(and there's a ton of stuff going on), as well as a schedule for each day.
A couple of the proposals that will be tested that stand out to me:
1) REMOVAL OF THE TRAPEZOID
Yes. A thousand times yes. Implemented after the lockout as part of the effort to increase goal scoring across the league, it put a restriction on goaltenders leaving their crease and going into the corners to play the puck, limiting players that had spent years improving their puckhandling ability (guys like
Martin Brodeur
, Marty Turco, etc.). When I spoke with Phoenix's
Mike Smith
a couple of weeks ago
, a goaltender that's regarded to be a strong puckhandler, we talked about this briefly and you can probably count him as somebody else that's probaby in favor of giving goaltenders more freedom. Limiting the movement of players on the ice (which this rule does) just seems to go against what the game is all about. And if your goaltender can't handle the puck effectively, well, he either needs to improve that aspect of his game or your team needs to find a goaltender that's capable of doing it.
2) NO ICING PERMITTED WHILE SHORTHANDED
Now here's a way to potentially increase scoring, at least as far as the power play is concerned. By calling icing in shorthanded situations (you're currently allowed to ice the puck while on the penalty kill, which is the only advantage the shorthanded team has) you're going to increase the number of offensive zone faceoffs for teams on the power play, which is bad news for teams that are down a man. The dangers of defensive zone faceoffs are obvious -- the closer a team starts to the net it's trying to score on, the better chance it has of getting a shot on goal and scoring if it can win the faceoff (you can read more about the dangers of Defensive Zone Faceoffs
by clicking here
). And this is true in even-strength situations, let alone power play/penalty kill situations. Not a huge fan of this one as it gives teams on the power play yet another sizable advantange. Playing a man up (or two) is enough. A couple of years the NHL made it so every power play starts in the offensive zone, regardless of where the offending team gained control the puck to draw the whistle on a delayed penalty call.
3) OVERTIME VARIATIONS
The current tiebreaking procedure in the NHL consists of five minutes of four-on-four sudden death overtime, followed by a shootout if the tie is not broken. The shootout has been a polarizing addition to the league, and last year the NHL took a small step toward reducing its impact by not including shootout wins as part of the tiebreaking procedure in the standings.
Another way to help reduce its impact (and the number of shootouts) is to give teams more overtime to play with, including several minutes with fewer players on the ice.
One idea that will be tested will be to switch ends, play four minutes of four-on-four hockey and then, if the tie is still not broken, switch ends again and play three minutes of three-on-three hockey. After seven minutes of four-on-four and three-on-three hockey it stands to reason that, given the amount of talent that will be on the ice and the additional room that will be out there,
somebody
will manage to get a goal and break the tie before a shootout is required. I like this idea quite a bit and would like to see it get some serious consideration, if for no other reason than the potential to see some of the three-on-three lineups teams like Pittsburgh, Detroit, Washington, Vancouver or Chicago could throw out there, and the type of back-and-forth hockey that would follow.
Just because these are being tested doesn't mean the rules will be changed or added to the league, it's simply a way to see them in action and take a test drive.
Photo: Getty ImagesFor more hockey news, rumors and analysis, follow @EyeOnHockey and @agretz on Twitter.