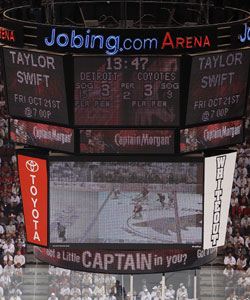 Earlier this week a report surfaced out of Arizona that two groups were still negotiating to buy the fledgling Phoenix Coyotes franchise. Considering how the process has gone since the NHL has owned the team beginning in 2009, skepticism was naturally high.
Then came a report on Thursday night from the Business Journal that a Canadian group with plenty of cash is formulating a plan to purchase the team. All of a sudden there is hope again in the desert, something that hadn't been in high supply since Matthew Hulsizer withdrew from the process.
The report goes on to say that in the proposal at this point, there would a seven-year out clause where the owners could relocate the franchise if market conditions don't improve. That's a pretty substantial amount of time for the fans in Arizona to prove their desire to keep the team or not and would have to be considered amply fair.
It goes on to say the deal could possibly be approved by the NHL in the coming days.
Reaching a deal soon (relatively speaking) is imperative to keeping the team in Arizona. The city of Glendale still has $25 million set aside to cover any operating costs the team might have to pay, but it's not clear whether or not that money would be available for another season, with the answer likely be no.
Also from the Journal, one of Hulsizer's biggest hurdles seems to be less of an issue with this potential ownership group.
A $40 million to $50 million contribution by Glendale towards the purchase could avoid a lawsuit promised by the Goldwater Institute Goldwater watchdog group. Glendale wanted to make available $100 million worth of bonds to help Hulsizer [buy] the team, but that deal fell apart in part because of Goldwater's legal opposition.
As promising as this latest development might sound, it would still be wise to tamper enthusiasm. They have been closer in the past to getting a deal reached with a new owner only to have it fall apart. But hopefully for the fans in the desert, this is more than just another mirage.
Photo: Getty Images
For more hockey news, rumors and analysis, follow @EyeOnHockey and @BrianStubitsNHL on Twitter.