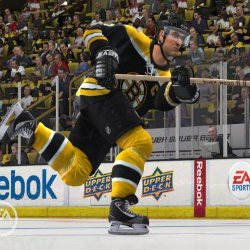 By: Adam Gretz
If you're a gamer and patiently waiting to pick up a copy of EA Sports NHL '12 when it hits the shelves in September, you're going to have an opportunity to use some of the NHL's greatest all-time players in this year's version of the game.
On Friday EA Sports announced the first three legends that will appear in the game: Wayne Gretzky, Boston
Bruins
great Ray Bourque, and Chris Chelios sporting his Chicago
Blackhawks
gear (he also spent many years -- and won Stanley Cups -- with the Montreal
Canadiens
and Detroit
Red Wings
).
They still need to announce the remaining six legends, and based on the images they've released (blank silhouettes) there is at least one goaltender in the group, and Patrick Roy seems like he would be a solid bet.
Personally, and if EA Sports had a sense of humor about this, I would love to see Jeremy Roenick make the cut, simply because his spot in the '94 version of the game
is regarded as one of the best video game players ever
(yes, people track these things). It was also part of an iconic moment in 1990's popular culture in the film
Swingers (adult language in this clip)
. Unlikely? Sure. But I can still have my sentimental dreams.
Of course, narrowing it down to just nine players (the three we already know of plus the six yet-to-be-announced) is a difficult task that will never please everybody.
You can check out a quick trailer that helps us get an idea as to what the legends
will look like in action over at the EA Sports website
.
Photo: EA Sports
For more hockey news, rumors and analysis, follow @EyeOnHockey and @agretz on Twitter.