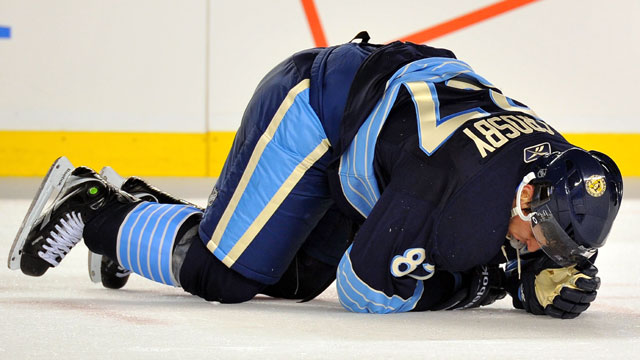 Sidney Crosby could be out even longer, three separate sources told Josh Rimer of NHL Home Ice on SiriusXM Radio. According to Rimer's report, the only information is that Crosby might not be ready to start the season.
But then there was this from Kevin Allen at USA Today on Saturday:
[Crosby} has not talked to the media about his injury this summer, but the word is that he is training and planning as if he will be ready for the start of training camp. The NHL brings its Stars to New York for media interviews every September, and Crosby is planning to be there.
Earlier this summer there were even rumors that Crosby was mulling a very early retirement. Those were clearly way too premature and were taken with the biggest grains of salt you can find.
The conflicting reports are tough on the ol' sanity section of the brain. It's like a tug of war that makes this whole situation maddening. The silence from Crosby and the Penguins, while completely understandable, contributes to the angst and speculation. Silence might be golden, but in cases like this it's rotten.
While these reports should cause some alarm, it's certainly not panic time. I'll wait until the team comes out or Sid himself saying it will be a longer wait before fretting too much. But the idea of the NHL being without arguably its top star for longer is not good news. Even if you dislike Crosby -- and I know a vast number do -- you can't honestly think it's anything but bad for hockey, let alone Pittsburgh. We'll know for sure when camps start up next month.
Until then, we'll wait and wade through the rubbish.
Photo: Getty Images
For more hockey news, rumors and analysis, follow @EyeOnHockey and @BrianStubitsNHL on Twitter.