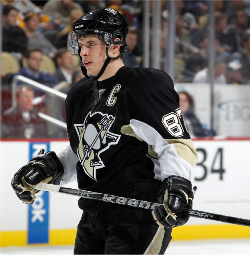 By: Adam Gretz
Following
another series of conflicting reports
on Sidney Crosby's status for the start of the upcoming season,
Penguins
general manager Ray Shero addressed the status of his captain late Sunday night.
Said Shero,
via Rob Rossi of the Tribune Review
, Crosby has still had symptoms as a result of the concussion that prematurely ended his 2010-11 season, but nothing that's forced him to shut down his offseason workouts. He also pointed out that he's yet to have a situation this offseason where he's needed to be cleared to play.
Shero later addressed the media on Monday, expounding on what Rossi wrote.
"Training camp is a month away, so there's no expectation for me that he won't be ready or will be ready," Shero said. "He's doing his usual routine. He'll probably be in a week before camp starts. We'll evaluate him then.
"I think [Sid] has had some symptoms on and off depending on how hard he's pushed himself. Sid has pushed himself pretty hard this summer, which is the good news. Sid has never had to get to the point where he's had to shut himself down or anything. That's the good news.
"The thing for me and for the organization is the bigger picture with
Sidney Crosby
. We want to make sure Sid is 100 percent cleared & ready to play when he does come back. He's not going to be pushed."
It had been a quite a while since the Penguins made any statement regarding Crosby, but after Josh Rimer, the NHL Home Ice Producer for Sirius XM Radio,
reported that he heard from three different sources
that the Penguins captain may not be ready for the start of the season, the conversation picked back up.
It's certainly nothing to downplay that Crosby is still apparently having some symptoms, but it's also worth noting that, at this point, it has little to do with his availability for the start of the regular season which is still nearly two months away. A lot can change in that time period (good and bad).
Without Crosby (and
Evgeni Malkin
, who was out with a knee injury) for half of the season the Penguins offense dropped significantly last season from years past, and ended up costing them in the postseason where they were eliminated in the first round by the Tampa Bay
Lightning
in seven games after jumping out to a 3-1 series lead. Malkin's rehab seems to be on track, but Crosby's remains a mystery surrounded with plenty of uncertainty.
At this point I'll believe he'll be back for the start of the season when he's on the ice and cleared for contact, and actually suited up on October 6th. On the other hand, I'll believe he
won't
be back when he's not on the ice on October 6th. Anything else is hard to believe at this point.
Photo: Getty ImagesFor more hockey news, rumors and analysis, follow @EyeOnHockey and @agretz on Twitter.