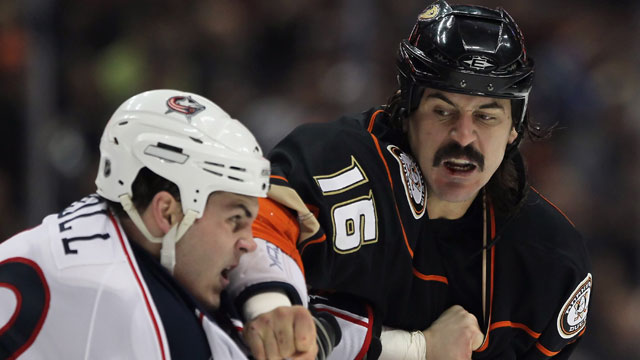 I remember as a kid growing up attending minor-league hockey games, nothing would excite me, or the crowd, like a fight. Goals were nice -- and there were plenty, the Tacoma Sabercats were regular contenders in the now-defunct WCHL -- but a sure-fire way to get the people out of their seats was a good ol' scrap.
This isn't limited to the small leagues, you can see it all across the NHL. Not to speak too broad, but people love fights. They're exciting. They get the blood pumping, on the ice and off.
To further illustrate, I recall my fondest memory of going to the rink growing up wasn't when I watched my hometown team win the championship, but it was a fight that went too far. After a fight sent an opposing player to the sin bin, things got heated with a fan sitting near the penalty box. Next thing you know, a beer comes flying from about 10 rows up and hits the box. From there the player, rightfully, snaps as the fan comes rushing down the stairs and starts pounding the glass. All the while, the player in the box begins grabbing anything he can -- sticks, water bottles, whatever -- and is throwing them at the guy right below him. Realizing that isn't working, he attempts to climb out of the box, skates on and everything. Standing on the bench, he tries once or twice to jump over the boards before he and the fan are eventually subdued and hauled away by police.
Even such extremes like that aren't limited to the minors. Remember this nostalgic Nordiques-Sabres scrum?
The Islanders will be hosting a party where they will replay the big brawl the team had with the Penguins. The Puck Daddy blog runs a summer series interviewing other writers and celebrities about their hockey Guilty Pleasures, with one of the standard questions asking the subject for his/her "Favorite Fight or Brawl of All-Time." Heck, there is an entire website out there dedicated just to fights in the sport -- Hockeyfights.com.
For those reasons alone I am a fan of fighting. The way I see it, you give the customers what they want, and they have shown they want fights, the most ardent fans that is. That's what TSN concluded in 2009. Attend any game across the league and notice how the reaction for a fight can be nearly equal to that of a goal (regular-season game, at least).
But as I said, you can't put every fan into one stereotype, there are plenty of people who oppose hockey's gladiatorial nature. That crowd is growing by the hour. The more injuries that occur, the more people are waking up to the serious dangers and risks enforcers put themselves through. Take a look at what Penguins defenseman Deryk Engelland looked like after a scrap that was caught in HBO's 24/7 series. Watch (NSFW warning: language).
The more brain trauma gets linked with former fighters such as Bob Probert or tragedies happen to fighters like Derek Boogaard's death, the closer we will get to fighting being removed from the game. I believe I will see fighting all but phased out of the NHL in my lifetime. It's not happening yet or very soon, but eventually.
Here is what NHL spokesman Frank Brown told the Washington Post earlier this year: "We believe it's a safety valve that prevents worse from happening on the ice."
That's pretty much the same rationale people give for supporting the legalization of drugs. If you erase the underground nature of drugs you can reduce crime and the logjam of the criminal justice system. (Plus it would help with the nation's deficit, but that's another discussion.)
In that Post story detailing Matt Hendricks' enforcer role with the Capitals you will find the exact reason why it will be so hard to get rid of fighting if the NHL even wanted to.
"It's not the most fun job in the world," he says, shrugging. "I like it when it's over. I like what my teammates say when I'm done. They know I'm doing it for them. You have to be willing. You don't do it for personal gain. ... It's what I have to do to play in the NHL."
That last part. It's what I have to do to play in the NHL. Try convincing the players and NHLPA to cut fighting, because if you do you are cutting jobs for those guys who do it for a living, it's how they earn their paychecks. It's what they have to do to play in the NHL.
At some point, though, it has to be about player safety, doesn't it? In today's NHL when they are always examining ways to eliminate dangerous shots that have sidelined players, isn't fighting the next logical target? Won't somebody please think of the children!
Peter Raaymakers (how awesome is it that a guy who writes a blog post on fighting has a name that rhymes with haymakers?) at the Silver Seven blog did, writing an excellent post concerning the mental toll the enforcers take.
Of course, if every fight looked like this, nobody would care. (Hat tip to Puck Daddy.)
Now back to the regularly scheduled programming. ...
People will forever debate for and against fighting in hockey. The traditionalists believe there is a place for it, saying its vigilante justice is imperative and fights can be key to momentum. There's a reason fighting exists and it's more than pure primal rage. But I would counter that if fighting were so important and vital to the sport, why does it all but disappear in the biggest games of the calendar; the playoffs?
The game transforms more and more every year to a skilled version that is opened up. Remember all the rules the NHL established after the lockout to increase scoring and thus interest? Fighting doesn't necessarily fit in.
A look at the numbers show fighting has gone down since the start of the century, with a slight decline in fighting since 803 in the 2001-02 season. Take a look at the chart below (source: hockeyfights.com) to see for yourself. It is still prevalent, but the same way Rome wasn't built in a day, you won't have a sharp decline in it overnight without more stringent rules to deter.
Admittedly, I'm OK with fighting in hockey. But I would be OK without it, too, and I find myself trending that way more and more each day. Would the game really be missing much? Well, colorful guys like George Parros might not be as visible or even in the NHL, which would be shame, but from a standpoint of the game? I don't think so.
So here's our informal poll: Do you want to see fighting taken out of the game?
Fights in the NHL
Season
Games
Fights
Fights per game
Games with fights
No. of players who fought
2010-11
1230
645
0.52
458
348
2009-10
1230
714
0.58
493
341
2008-09
1230
734
0.60
509
355
2007-08
1230
664
0.54
473
324
2006-07
1230
497
0.40
384
292
2005-06
1230
466
0.38
357
276
2003-04
1230
789
0.64
506
340
2002-03
1230
668
0.54
464
321
2001-02
1230
803
0.65
519
348
2000-01
1230
684
0.56
469
329
Photo: Getty Images
For more hockey news, rumors and analysis, follow @EyeOnHockey and @BrianStubitsNHL on Twitter.